For overall digital experience, having an email account is vital. From a basic search engine to social media or any digital presence, emails have become obligatory to not only stay connected but also to access the overwhelming world of the Internet.
With over half of the global population already using the internet, and unavoidably emails, the platform becomes the obvious and impressive choice of marketing. Furthermore, through the years of inbound marketing, email marketing has proved to be more genuine, more penetrating, and more fruitful than any other form of business communication. Thus, GoodFirms presents email marketing research for marketers to derive tips for effective marketing campaigns.
About the Survey
This survey was conducted among 100+ marketing professionals as well as experts from industry-leading companies, to dig out challenges, trends, and insights for email marketing. The extensive research was compiled to make marketers, and businesses as well, aware of the latest practices in the market, benchmarking them for sounder service and even perusing neo-practical approaches.
For the survey, the participants from varying consumer markets were approached, from around countries like Australia, Canada, Czech Republic, India, Singapore, South Africa, the United Kingdom, and the United States. Thus, contributing to the coherent nature of the survey stats and insights.
Here is a list of participating agencies, from GoodFirms' list of Top Digital Marketing Companies, that consolidated the survey with their expertise and visions:
The Detailed Findings
The fact that email marketing brings the highest return on investments for your efforts and money has been proved several times and accepted in general. But before jumping to the drive, clients and, for this matter, marketers need to know that the leaden nature of conventional email marketing makes the entire process dicey; thus the modern approach requires a lot more of strategies, a decent knowledge of user behavior, and a bit of cutting edge technology.
The present survey accentuates on several tipping points of the discipline such as simple marketing goals, performance measuring numbers, optimization strategies, marketing email frequency, challenges, favorite tools, budget allocation, types of marketing emails, campaign trends, and the impending impact of AI and Ml on the marketing. Follow the research to get a meticulous perception of the industry:
What Are the Simplest Email Marketing Goals, to Focus Your Efforts On?
For email marketing, goal setting should be audacious, and marketers should be creative as well as rationale about it - mainly due to its complex nature to serve more than one objective. For example, a marketing email aimed at selling a service has to/can be designed in such a way that enough information is provided for brand awareness too. Even, social proofs can be added for credibility building. Such opportunities provide marketers with complex, multitudinous goals; and even more complex strategies to implement.
Hence, the participant email marketing agencies were asked - "What are your key goals behind leveraging email marketing?"; while also mentioning a few simple goals to choose from. Their choices are as below:
Not surprisingly, 96.88% of the marketers, almost everyone, pointed out that building a strong relationship with customers to be their top email marketing goal.
Matched by an equal 95.63% of the marketers, another top email marketing goal selected was selling products/services.
As many as 85.63% of the email marketers choose growing customer base, marking it as a top email marketing goal.
Also, 78.13% of the participant marketers asserted they use email marketing for brand awareness too.
About 62.50% of the surveyed email marketers stated their efforts would also be for boosting engagement.
Moreover, 39.38% and 27.50% of the marketers considered building credibility and weekly updates, respectively, as one of their email marketing goals.
Inferencing from the stats, the top three choices suggest email marketing is mainly used for striking a conversation with the prospects, may it be to build a relationship or to sell a product/service or growing customer base.
What Are the Benchmark Average Open Rates and CTR?
There are a few numbers to follow when it comes to measuring and optimizing the success of your email marketing campaign. But the most important ones are open-rates and click-through rates (CTR), which are crucial to check email engagement. Open rates let you be insightful into subject line optimization as well as keeping track of reputation scores. On the other hand, CTR gives a profound view of the workability of the email body; of which body copy, images, and call-to-action are key lead generating components.
But one would wonder, what are the benchmark average numbers? During the survey, the participant email marketers were asked the same, to mention a good average open rate and CTR. Here are the stats deduced from the survey:
The average Open Rate, across all geographies and industry sectors, is 22.5%.
The average Click-Through Rate, across all geographies and industry sectors, is 4.2%.
While responding to the query, many of the email marketers implied that these numbers vary based on geographies and industry sectors.
5 Popular Strategies to Optimize Email Marketing Campaigns
The desired results out of email marketing efforts mostly include lead generation or product/service sale. But for that, receivers should first open the email, and then go through the content funnel leading them to your desired goal. Thus, depending on your type of email campaign, geography, and industry sector, there are several email components to optimize. And the best way to do it is to experiment and compare the results.
So, what should marketers focus on? To achieve previously mentioned average open rates and click rates, the participant marketing professionals were asked for strategies that they employ to optimize their email marketing campaigns. Here are the five strategies that were popular among them:
With a majority, about 81.88% of the email marketers have mandated that they create efficient landing pages and call-to-action, which are crucial to email marketing campaigns and lead generation.
Among the respondents, yet 80.63% of the marketers stated that they personalize marketing emails, for optimum CTR.
About 78.13% of the surveyed marketers use short, subjective, and crisp subject lines to achieve better open rates.
Around 69.38% of the participants include social media links so that users can directly reach your social platforms and share the content; subsequently maximizing the reach.
Some 38.75% of the email marketers even include user-generated content such as reviews and experiences as a means to provide social proof.
Marketing optimization is a dynamic and complex process. While the above stated are some of the most popular strategies to focus on, several marketers have even mentioned a few more, which plays an important part in optimization.
In the wake of high mobile usage, marketing emails should be optimized for mobile mail apps.
Email content should be designed creatively, making sure that it voices effective message and delivers value to users.
Based on metrics and engagement, the recipients' email list should be segregated into classes. And accordingly, different email campaigns should be designed.
How Often Should You Send Marketing Emails?
For every marketer, email marketing frequency proves out to be a tricky thing. Too much, and it would frustrate the recipients away. Too less, you would never get them in the loop. So, how often marketers should pitch to their prospects via email?
The participants were asked about their adapted frequencies, and following are the stats:
Very few, barely 5.62% of the marketers send marketing emails every day.
A majority, with 53.75% of the surveyed marketers, set their marketing email cycle at once a week.
About 33.75% of the surveyed marketers send promotional emails once a fortnight.
Only 6.88% of the respondent promoters follow a marketing email frequency of once a month.
The stats imply that the email marketing agencies don't want to annoy the customers with too many emails. This could result in serious backfires such as an increased number of unsubscribers or bounce-rates, which could shadow not only email marketing campaign but also website metrics. On the other hand, they don't want to lose their grip either, by sending much lesser emails. This could result in recipients' loss of interest or attention and subsequently engagement.
Top 5 Email Marketing Challenges
To achieve the simplest email marketing goals or even touch those benchmark rates, there are certain roadblocks for the marketers which they need to consider. To figure out the top challenges faced by marketers, the participants polled several options given to them. The stats derived from the survey are as below:
Marketing email landing up in a spam folder is the biggest challenge for an email marketer, as voiced by 76.25% of the surveyed companies. Spam filters usually analyze subscription engagement and user behavior to decide which emails can make up to the inbox; this could result in a loss of open rates.
Creating compelling content for an optimized marketing email poses the next biggest challenge according to 48.75% of the participants. With only a few seconds to do the trick, email copies need to be striking enough to pull strings.
Boosting open rates and CTR is also one of the biggest challenges, as mentioned by 33.13% of the marketers.
The recent introduction of Promotion Tabs by email service providers have triggered a significant worry among 29.38% of the email marketers.
It has been tough to grow and retain subscribers for 12.50% of the marketers.
6 Most Popular Email Marketing Tools
Email marketing helps marketers to build a direct contact with the clients. But the process proves tedious when it comes to segregating email list and sending personal emails to each one. Moreover, unlike many other marketing platforms, direct forms of measuring performance are minimal. Now, adopting an email marketing software for the efforts would empower marketers to reach maximum, and analyze the responses as well. A good service provider would ensure you land up in your client's inbox, effectively.
There are a dozen email marketing tools available in the market. The surveyed marketers were asked to reveal their choice of tool. The stats obtained from the survey are given as below: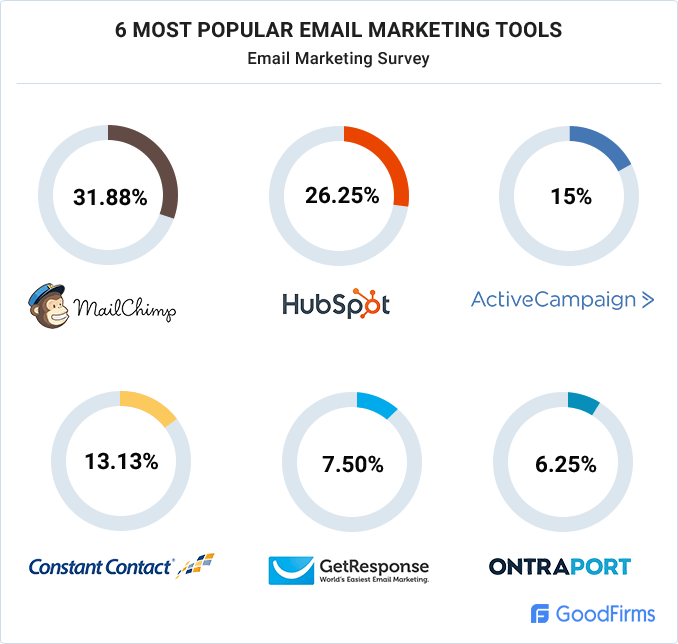 Average Email-Marketing Spending from Marketing Budget
Email marketing is one of the most influential sources of marketing information. An equally known fact is - email marketing has the highest return-on-investment. Thus, marketers don't shy away while allocating a considerable chunk of their overall marketing budget.
During the survey, we asked the marketers to reveal how much of their budget is actually spend on email marketing. They gave mixed replies anywhere from 2% to 30% - which, they implied, were based on campaign type, content requirements, and email list.
On average, marketers spend around 12.09% of the total marketing budget on Email Marketing.
6 Popular Types of Marketing Emails
Announcement Emails are some of the most common forms of marketing emails. Thus, a whopping 96.88% of the survey participants practice a habit of sending regular info-mails to the subscribers' list. These emails could be announcing about anything from a newly launched product, an offer, a service update, to even a new content. If done right, announcement emails can directly drive your leads, conversions, and sales.
Welcome Emails are a powerful way for branding and storytelling. As many as 84.38% of the surveyed email marketers voiced the importance of sending an email - to welcome the prospects after they have signed a form or subscribed to a service. These emails have very high open rates and CTR; thus, it provides an excellent opportunity to build friendliness among the new subscribers. Also, it is the best platform to start the sales-journey of a customer; by including offers or highlighting featured products.
Thank You Emails are crucial for maintaining customer-relations. Around 72.50% of the participating marketers vouched for such emails to improve customer's after-sale experience like confirmation emails or kickbacks. Usually, these emails are short and simple, so as not to confuse the customer from the targeted information. Due to its importance, it's suggested to use automated, event-triggered email services so that a thanking email is not missed.
Lead Nurturing is critical for advancing the prospects through sales funnel. About 56.25% of the surveyed marketers have been utilizing emails to stay connected with the leads. Through these emails, marketers can understand the needs of a customer and communicate the value of their product/service.
Remarketing Emails are tricky, but at the same time hyper-targeted. Around 52.50% of the participants use emails to target an audience that is aware of the product but still hasn't made a buy. General targets are those who have visited the website once, signed for a similar service, or abandoned a shopping cart. Remarketing emails are meant to re-engage these prospects with the sales funnel.
Customer Acquisition Emails is strategic to bringing prospects into the sales funnel and aid them through. Around 43.75% of the participant marketers agree on the same. These emails are mostly targeted at new prospects, and thus marketers need to be mindful of the brand voice and email credibility.
Top 4 Email Marketing Trends to Follow in 2019
Around 62.50% of the marketers said that sending targeted, auto-generated emails based on the behaviors and actions of the audience would be the biggest trend. Whether it be event-triggered or micro-moment targeted, emails could be leveraged to pursue prospects with needed products and lucrative offers. This event could be anything, like a comment on a social media post, subscription to a certain service, or even a search on the internet!
About 51.25% of the participants voted interactive emails as the next big trend. Emails now have hover-change graphics and CTA buttons, image carousels, quizzes, direct voting, and much more, which not only attracts the users but even allow them to interact with your information within the email. These drastically increase email-engagement.
A bunch of 48.75% email marketers firmly believe that hyper-personalization would be a great trend. With the rising availability of personal data and opportunities, marketers could now personalize emails which would result in better offers and higher engagements.
Also, 37.50% of the marketers asserted the imperativeness of mobile-friendly marketing emails, with almost everyone operating emails from their mobile. Optimizing emails for mobile would mean to create faster email conversation, effective content, better CTA buttons, and higher conversions.
5 Futuristic Roles of Machine Learning in Email Marketing
Since its inception, Artificial Intelligence has been a disruptive innovation. Even in marketing circles, the applications are substantially catching fire. So we asked the surveyed email marketers about their thoughts on the matter. While 91.25% of the participants agreed that AI and machine learning would enhance email marketing efforts for good, yet 8.75% were not sure about the latest developments.
Here are 5 futuristic roles, according to surveyed marketers, machine learning is going to play in email marketing:
#Smart A/B Testing
To create an efficacious email content, marketers rely on A/B testing - test combining several subject lines, body copy, CTA buttons, and graphics. With the help of result metrics, one can check which elements and combinations most resonated with the audience. With AI-powered smart A/B testers, user behavior can be predicted which would make the process versatile, accurate, and time-effective.
#Hyper-personalization
With artificial intelligence, hyper-personalized emails are possible to the size and frequency needed for your business. This personalization is possible up to the extent of individual pricing & offers, product recommendations, automated up-selling & cross-selling, and much more. The AI-powered crawlers collect user data such as website activities, purchase history, and even browsing behaviors to determine what offer would convert, and trigger a hyper-personal email.
#Perfect Email Timings
Every user is different - each of his actions, habits, preferences, and behavior differs from the other person. Having said so, it becomes difficult for marketers to personalize timings for each user; and even if they do, hypothetically speaking, the email lists are too large to be segregated for each. In the given scenario, AI bots can study individual engagement history, and not only trigger real-time emails but send them at perfect timings to increase conversion.
#Dynamic Segmentation
Segmenting email lists (to target a specific audience) is a convoluted task, mainly due to diverse engagement activities, changing preferences, and dynamic user micro-moments. Dynamic segmentation solves the problem, which tracks each user to update her position on the list segments in real-time. Such a service is possible with machine learning - empowered to collect and analyze user data within milliseconds.
#Improving Buying Experience
Though a long-shot idea on the list yet the most lucrative one. With the developments in interactive emails, AI can power email marketing to provide comfortable buying experience to users without even leaving the email. Buyers can interact with the email content, also place an order and pay for it, while smart bots can sort the emails and carry out the operations accordingly.
Avail Best Services for Your Business
Marketing Emails remain an integral part of inbound marketing strategies, which is showing no signs to slow down. Albeit, it is going to grow stronger with the AI enhancements. Marketing experts suggest sailing close to the wind, so as not to miss the opportunity.
The survey research put forth several keystones for your email marketing efforts. For businesses that are in search of companies, that are actively sailing close to the winds, GoodFirms extends services to our list of Top Email Marketing Companies to aid your marketing needs. Select a few firms from the list, see if they fit your needs, and pick the one which offers the best services.