Re-evaluating SEO With Automation
Abstract:
Amidst intense competition among businesses, more companies are opting for SEO automation techniques to automate repetitive marketing tasks. SEO automation ensures higher rankings on search engine result pages for improved growth and productivity. However, companies experience several challenges in automating their SEO activities which enhances the number of funds and time invested in the automation.
This research attempts to re-evaluate SEO Automation regarding advantages, uses, etc. In addition, this research also provides detailed information regarding the top automation priorities for businesses. This research aims to understand the different aspects of SEO automation, such as benefits, challenges, roles, etc. In addition, this research also gives clarity on the tools and current trends of SEO automation that will benefit the businesses in the upcoming time.
Introduction
The waves of automation are disrupting all industries. Automation is becoming imperative for business success, competitive advantage, and strategic growth. Search Engine Optimization (SEO) is no exception, and businesses are pursuing SEO automation like never before. Most SEO experts favor scaling automation technologies to create faster, more resilient, and error-free workflows. From automating structured data markup to boost website traffic to AI-generated content to improve publishing workflows, SEO automation is becoming a panacea to all SEO challenges.
This research titled: 'Re-evaluating SEO With Automation' explores the current trends, top priorities, and opportunities in the field of SEO automation. The study also attempts to uncover the benefits and challenges in re-evaluating SEO with automation.
SEO Automation in 2022: Manual Vs Automated
In the present era, most businesses use digital platforms such as mobile applications, websites, etc., for their operations and revenue generation purposes. This brings stiff competition among companies of all sectors. To effectively tackle this, they adopt digital marketing and advertising. Digital marketing and advertising are divided into several segments as follows:
Search Engine Optimization
Paid Marketing (Google Ads, Social Media Ads, Third-Party Ads)
Email Marketing
Content Marketing
Social Media Marketing
Print, Banner, etc.
Among all these, Search Engine Optimization, i.e., SEO has emerged to be one of the top marketing technologies.(1) Search engine optimization ranks a website or webpages higher in search engine result pages (SERPs). The SEO landscape keeps changing drastically. Businesses adapt to this change by using a wide range of SEO tactics ranging from on-page/off-page to technical and local SEO.
SEO hugely benefits businesses and digital marketers in enhancing their rankings on Search engines like Google. SEO is a part of Search engine marketing and includes several factors for ranking a website higher in search results.
Some of these ranking factors include:
Content
Keyword use and density
User Interface (UI) and User Experience (UX)
Backlinks
Meta descriptions
Meta title
Internal and external linking
Alt tags for images
SSL certification
Core web vitals
XML Sitemap
Robots.txt
Google considers more than 200 factors to rank a website higher.(2) These factors keep on changing regularly, and it isn't sure which elements Google uses in SEO at what time. Manually keeping with the changes in Google can be a difficult task where SEO automation can be proved handy.
SEO is an integral component of any marketing plan through which brands can establish a good web positioning on the search engines in different ways. For a long time, SEO activities have been carried out manually through the efforts of people. However, this changed with technological advancements such as Artificial Intelligence, Machine Learning, etc.
Now businesses are prompted to automate their SEO for better benefits and search engines rankings. SEO automation refers to the techniques and tools used to automate repetitive SEO tasks.
Manual v/s Automated: Which SEO Practice is Better?
SEO plays a crucial role when ranking a website higher in Google and other search engines. However, with the technological advancements and rise of SEO automation, a fundamental question that comes up to mind is which one is better - Manual or automated SEO?
Manual SEO
Manual SEO includes a team of experts responsible for developing and implementing SEO strategies for a website or a business. Manual SEO allows any company to acquire complete control over its SEO strategies and activities. Businesses can effectively determine whether the SEO activities are going according to the plan or deviating from the plan. In addition, manual SEO also lets companies improve their off-page SEO as they can handpick the backlinks as per their choice and quality of the links.(3)
However, Manual SEO also has some cons, due to which people and businesses also prefer automated SEO. Manual SEO is a time-consuming process that includes highly dedicated efforts from the SEO team. Also, it can take years in SEO development if the website is extensive with hundreds of pages. In addition, manual SEO is costly as businesses need to hire a team of SEO experts to carry out the SEO strategies properly.
Automated SEO
Automated SEO includes software and tools to carry out the SEO strategies for a website or business. Each company tends to have some crucial objectives which they try to accomplish through SEO automation. Some automation tools are freely available on the web. The paid version of automation tools also comes as one-time payments or subscriptions.
Which One is Better?
Automated SEO is machine-based SEO that can lead to inefficiencies in executing complex tasks such as content development, determining project goals, conducting research, etc. These tasks require human intelligence due to which they are executed manually by the SEO teams. Whereas SEO automation is effective for activities like SEO audits, competitor analysis, backlink analysis, etc., that can be carried out through technologies and save time for these activities.
SEO Automation: Roles, Benefits, and Challenges
Role of SEO Automation
Some of the objectives of businesses behind automating SEO activities are as follows:
Streamlining SEO administration
Streamlining is one of the core objectives behind SEO automation. Manual SEO needs a considerable amount of effort from multiple people. SEO automation can simplify an organization's SEO process, which ultimately helps scale the business and reduces workload. SEO automation combines many tools into a single interface for executing several activities simultaneously. This saves time and money for the organization that is used in other areas of the business. SEO has many moving pieces which can be tracked effectively only through automation.
Cost reduction
This is another objective behind the automation of SEO activities for an organization. Manual SEO requires a massive team with different SEO roles and responsibilities. This has proved costly for the firms as they have to develop employees' skills and performance. Automated SEO can reduce this investment as businesses can focus on multiple aspects of their SEO strategy with a centralized system which will ultimately help in cost reduction. In addition, automated SEO also reduces the need for extra personnel and experts in marketing activities, saving the cost of businesses.
Benefits of SEO Automation
SEO automation brings numerous benefits to businesses that were not available during the manual SEO processes. It allows a company to acquire better performance and efficiently execute SEO activities. These benefits depend upon the tasks which the organizations automate. Some of these benefits are as follows:
#Gathering valuable insights
This is the primary benefit of SEO automation. Businesses and digital marketers can acquire valuable and critical insights regarding the SEO progress and activities to ensure whether everything is going according to the plan. They can also make data-driven decisions for the business processes through the insights from automation.
Data guides businesses to redirect the efforts and resources for better performance. Automation quickly provides insights that can be tough to discover through manual SEO. In addition, these valuable insights provide data in real-time. Businesses can monitor the traffic, competition, etc., on a real-time basis to make proper changes and modifications in the SEO strategy accordingly.(4)
#Integrations
This is another benefit that comes with SEO automation. SEO automation tools provide many integrations to manage the different SEO tasks in one place collectively. SEO automation allows integrations of various aspects of marketing such as CRM, Social media, Google analytics at a single home, due to which businesses can easily handle them. They can edit the content from a single dashboard to acquire social media and web traffic insights. In addition, integrations also allow users to adapt to the rapid changes in SEO practices as they change or develop.
#Empower teams to scale
SEO automation also benefits the SEO and marketing teams in empowering and scaling themselves. They can reduce their hard work by automating their SEO activities which ultimately assist them in executing their work efficiently. This enhanced efficiency is beneficial in performing other SEO activities, empowering the teams to scale their functions and abilities.
Challenges of SEO Automation
SEO automation brings numerous benefits to businesses, but still, there are some challenges that they experience either during automation or after automating their SEO activities. Some of these challenges are as follows:
#Implementational issues
With SEO automation comes several implementational issues that can hamper the flow of SEO activities. SEO automation tools can handle almost all the problems of businesses automatically. However, this isn't true.
Automating SEO activities requires access to solid knowledge and resources, and if individuals do not access this knowledge and resources, they can face issues in automating their work. They need skills along with knowledge development sessions to implement the automation properly. The absence of knowledge or expertise can lead to improper implementation and reduced output and productivity. Also, not all SEO activities can be automated.(5)
#Reduction in leads due to content automation
With manual content marketing, businesses can encourage their subscribers, followers, customers, etc., with an increased focus on website analytics. However, automated content marketing does not necessarily develop content that can attract customers. It is not wise to use content automation to write emails, social media posts, etc. They may not target the customers just like human minds. Automating the content can negatively impact an organization's marketing and advertising, influencing the number of converted leads. The reduction in leads often prompts the businesses to shift again to manual SEO.
Which SEO Tasks Can be Automated?
Although businesses cannot automate all their SEO tasks, they can automate some of them. The automation of these tasks allows any business to enhance its profitability without sacrificing the quality of its SEO work and labor. Some of these tasks are as follows: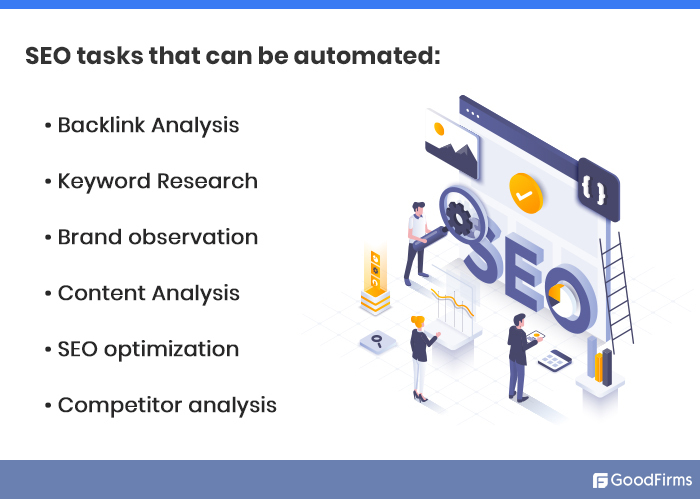 Backlink Analysis
A backlink is an integral part of SEO that benefits a business in acquiring higher rankings. For guaranteed access to high-quality connection pages, Backlink analysis is the key. Automating backlink analysis is a speedy process to check the quality and quantity of backlinks, which usually takes a long time. Automating backlink analysis allows a business to keep track of each web page to ensure high-quality connections.
In addition, companies can also identify the domains to which their website is linking multiple times, the spam score of linking domains, domain authority and page authority of linking domain, etc. by automating the backlink analysis.(6)
Keyword Research
Keyword research refers to how a business identifies relevant keywords to target users and sell offerings. Since the rise of SEO, digital marketing experts and companies conduct keyword research manually; however, this changed with the automation tools and software.
Presently, businesses can automate their keyword research process to save time. In addition, companies can also track the position of their targeted keywords by automating keyword research. SEO automation tools help set alerts when the rankings of their targeted keywords change.(7)
Brand observation
Brand observation is a critical SEO automation task that allows businesses to know their customers' opinions. Automating these tasks allows businesses to immediately know if someone mentions them online or links to their website. Manually checking these online brand mentions and linking from other domains can be proved a time and effort-consuming task due to which automation is beneficial in such cases.
Content Analysis
Content is the heart of SEO automation that is useful in attracting customers to see what they are searching for on Google. Fresh and unique content is the priority for businesses in the present time. They can thrive by having exclusive and relevant content on their website and other publishing platforms through SEO automation.
Content automation allows companies to generate new ideas for effectively improving the rankings and performance of firms through content. This reduces the time people spend determining new ideas for developing new content. In addition, content automation helps recognize and remove duplicate content that negatively influences the rankings.
SEO Optimization
An SEO-optimized site is a prerequisite to avoiding SEO technicalities. If a website is not indexed and crawled by the search engines, it may achieve lower ranks in the search results. With SEO tools, businesses can easily automate the optimization process of their website, which saves the time of optimization and saves the time used in detecting flaws in the website. By automating the optimization process, businesses can easily crawl their web pages to rank higher in the SERPs.
Competitor Analysis
There is stiff competition in the market at present. Due to this, businesses use SEO to stay ahead of the competition. SEO automation comes into the picture in such scenarios where companies need to determine the strategies and tactics of competitors for outranking them. SEO automation can be used by businesses to keep track of their competitor's developments and strategies. By automating the competitive monitoring, companies can quickly determine against whom they are competing and how they can effectively outrank other competitors.
Top SEO Automation Priorities for Businesses Today
Businesses have different activities that need automation through tools for SEO. However, every company doesn't have to implement automation in all SEO activities. Instead, they need to prioritize automation activities to bring better results.
Some of the major organizations are expecting huge traction in SEO automation in upcoming years.(8) Some of these automation priorities are as follows:
#Optimizing content
Content optimization is essential for businesses in the present time. This is because the content is the king that attracts web visitors to any website. Optimizing a website's existing content helps determine whether the content is upto the mark or is low quality based on duplication and spam. SEO automation can easily handle content optimization and reduce the time to analyze and optimize the content.
#Analyzing and building authoritative links
Backlinks play a significant role in ranking the web pages higher through off-page SEO tactics. When websites have a massive number of web pages targeting a vast number of keywords, it becomes difficult and time-consuming for the digital marketing team to build and analyze the quality-based links. By SEO automation, businesses can effectively focus on creating new authoritative links and analyzing the existing ones to determine their inefficiencies.
#Fixing technical problems
One of the most critical SEO automation priorities of businesses is to fix the technical issues and problems of their website. This is required to ensure that the web pages rank on relevant keywords without any issues. If the technical parameters are not fixed and optimized from an SEO perspective, it can negatively impact the website's performance and web visitors, which reduces sales and productivity. SEO automation software can quickly determine the technical issues and automatically works on improving them.
#Monitoring ranking of different pages of the website in Google
The marketing department must monitor and manage the search engines rankings of their websites. Through this, they can determine which keywords are performing well and need improvements. They can automate the keyword rank monitoring to get alerts when the position of their targeted keyword changes. The marketing team can simultaneously keep track of their multiple keywords and their positions.
#Monitoring backlinks
As discussed above, backlinks are considered a significant factor that negatively impacts Google rankings. Businesses are required to stay aware of the changes in the different parameters of backlinks, such as spam score, domain authority, page authority, etc., to ensure that their backlinks are of high quality even after some time. This can be done through SEO automation tools to evaluate and monitor their backlinks and linking domains effectively.
#Managing user experience
When any business website is not optimized from an SEO perspective, then it can experience issues in acquiring better ranks on Google and other search engines. Therefore, it is highly recommended that businesses pay attention to the significant critical errors that can hamper the user experience when visiting the website. These errors include image placements, content, contact forms placement, etc. Businesses can determine such mistakes that negatively affect their users when visiting the website by automating these tasks. Also, upon determination, these factors can be improved for improving the user experience.
#Generate SEO leads
Generating business leads is the core objective of any digital marketing campaign, including SEO. In addition, it is one of the top priorities of businesses to scale their business. Companies and digital marketers also need to manage the different insights and information obtained from the website to determine genuine business leads and promotional leads. Automating SEO can reduce this hectic task, and businesses can acquire the knowledge of business leads effectively without wasting much time and resources on determining the correct ones.
#Create and Discover Insights
SEO includes many activities and parameters containing different insights and data types. With SEO automation, organizations can create and manage insights better. SEO automation reduces the toughness in creating and managing insights as per the convenience of businesses. They can adequately create real-time insights regarding web traffic, leads, website errors, etc., and then compile them as per their needs so that data can be used when needed on a real-time basis. With SEO automation tools, businesses and digital marketers can quickly discover the insights of several parameters in a single place.
#Keep Track of Critical Page Changes
Google keeps on updating its algorithms for ranking the websites on different parameters. Therefore, businesses must keep making changes in their web pages accordingly. Also, many people and teams simultaneously interact with the websites, resulting in fatal errors and a negative impact on rankings.
The marketing departments need to keep track of such changes and mistakes, which is a challenging task for tracking hundreds of web pages. SEO automation tools can assist businesses in monitoring such changes in the webpage and websites. This will improve the efficiency of marketing efforts as the changes and errors stay in check.
#Automating Keyword Research and Analysis
Keyword research automation allows businesses to rank higher on the pre-determined keywords with comparatively fewer efforts. It is one of the top automation priorities of the companies that will enable them to choose and rank with relevant keywords. Automating keyword research and analysis is beneficial in tracking the position of keywords when their google rankings are changed.(9)
In addition, the time taken in the keyword research process can be reduced drastically through automation tools. Business organizations can quickly determine the keywords that their customers hugely search. They can target the relevant keywords with heavy web traffic in less time.
#Site Monitoring and Auditing
It is also one of the essential SEO automation priorities for businesses. By automating site monitoring and auditing, companies can identify the errors impacting the search rankings on a real-time basis. In addition, the businesses can also ensure that their business performance is in optimal condition for hitting the top spots of the targeted keywords through automating site monitoring and auditing. One more important benefit of automated site monitoring and auditing is that it allows businesses to look after their competitors to determine their strategies, optimization processes, etc., to stay ahead of the competition.
Current Trends in SEO Automation
Artificial Intelligence
AI is the most significant SEO automation trend at the present time. Over the last few years, AI use in SEO automation has been significantly increased due to various benefits. It is used for content generation, optimization, rank tracking, and other SEO activities. In addition, it is also used by businesses for simplifying strategic planning, detecting spam backlinks and outdated content on digital platforms.
AI is useful in adapting to the continued changes in the SEO landscape for bringing jaw-dropping ideas to make informed business decisions. Multiple businesses utilize AI in understanding human speech and delivering better search results to consumers. It may not look promising in the present time but there is a huge chance that AI will bring more new developments in automation.(10)
Automating Insights
Insights play a significant role in determining the accuracy of an SEO strategy. They provide critical data to the businesses regarding the web traffic, consumers, locations, systems, and several other aspects of the SEO both on a real-time and custom basis. Automating the insights is one of the significant trends in the present time for making better decisions. In addition, gathering insights from social media platforms is a hectic task regarding time, cost, and value. These social media insights can be automated through SEO automation tools to manage their different insights in one place.
Staying Up to Date with Google
Google ranking factors keep on changing regularly, due to which it becomes highly essential for businesses to ensure that each element is upto the mark. Business owners can easily keep an eye on the different factors of their website so that they cannot impact the rankings when Google considers them. They can do this by using assistance from automation tools. SEO automation comes in handy in such scenarios.(11)
Top Tools for SEO Automation Suggested by Experts
Automating SEO activities is not a piece of cake; instead, it needs several tools and technologies to ensure the effective execution of SEO activities. Some prominent digital marketing experts and business owners, such as Neil Patel, Brian Dean, etc., suggest several tools to automate SEO.
Ahrefs
Ahrefs is an all-in-one SEO automation tool available in free and paid versions. It is a modern tool for technical analysis and SEO automation of a website to improve the productivity and performance of an organization.
David Farkas, CEO of The Upper Ranks, says, "Ahrefs enable one to track keywords movements in the SERP's in real time. By having access to this data webmasters can be a lot more agile when it comes to making both on and off page optimizations."(12)
Moreover, Ahrefs provide several automation tactics as follows:
Auditing a website
Exploring website
Exploring keywords
Exploring content
Tracking Rank
Semrush
Semrush is a known player in the SEO automation market, having a full suite of SEO automating techniques and options for making life easier. It provides various options to automate your business SEO's essential components, including website audit, position tracking, monitoring brand mentions, automatic report creation, etc. Automate your business SEO strategy through Semrush once and get accurate reports and insights about the progress of your SEO campaign.

Screaming Frog
Screaming frog is another SEO automation tool used by businesses for their SEO audits and rectifying the errors of their website. It plays a crucial role in fixing and determining critical errors like error 404, pages with duplicate content, insufficient content, sitemap issues, etc. Screaming frog not only conducts the audit for your business website but also determines the problems impacting your online visibility on the search engines.(13)
Screaming frog lets you determine the following things:
Missing page titles.
Missing meta descriptions.
Missing meta keywords.
Large images.
Errored response codes.
Errors in URLs.
SE Ranking
SE Ranking is one of the fantastic tools available for automating SEO activities. It can effectively monitor the backlinks, manage your ranks, conduct keyword research and website analysis, etc. Businesses can acquire the relevant and needed marketing insights of themselves and their competitors without any issues through this tool. It also allows integrations to several platforms for efficiently automating tedious tasks that yield higher return value. (14) Some of these integrations are:
Zapier
Bitrix24
SEOTools for Excel
Report
Key Findings
Automation plays a pivotal role in enhancing the efficiency and effectiveness of SEO strategies within an organization.
Manual SEO is beneficial for tasks that require human intelligence. In contrast, automated SEO is helpful for tasks whose execution can take place without human intelligence, such as insights reporting, site audits, etc.
Automated SEO increased with recent advancements in AI, ML, etc.
Businesses can experience tremendous benefits from SEO automation and some challenges influencing marketing activities.
Most SEO tasks that companies automate include backlink analysis, keyword research, content optimization, etc.
Automation of all SEO activities is not possible. Some activities, such as deciding goals, writing content, etc., should be done manually for better results.
Businesses need to prioritize the SEO tasks that require automation based on their needs and requirements.
Companies use different new trends in SEO automation to automate their activities, such as the Use of AI, staying updated with Google, automating insights, etc.
Experts use a wide range of SEO automation tools such as Ahrefs, Semrush, SE Ranking, etc., for carrying out repetitive tasks automatically.
Conclusion
SEO automation is one of the significant digital marketing and advertising trends. It assists organizations in ranking their websites on the front page for their targeted keywords. In addition, it has numerous advantages and benefits such as analyzing backlinks, content optimization, efficient keyword research, tracking, etc.
Organizations have to prioritize their SEO activities before automation for effective results. Through this, the organizations can ensure that only time-consuming activities are automated that need less human intelligence. Moreover, businesses can experience several challenges in the SEO automation process associated with implementation, lead reduction, etc.
Companies should adequately address these challenges to accomplish their SEO goals. New trends in SEO automation, such as artificial intelligence, machine learning, etc., can address these challenges of SEO automation. Many experts believe that ongoing developments in technology will benefit SEO automation in 2022 and beyond.
References
https://digitalcollection.zhaw.ch/bitstream/11475/21947/3/2021_Zumstein-etal_Marketing-Automation-Report.pdf

https://backlinko.com/google-ranking-factors

https://www.forbes.com/sites/forbesagencycouncil/2021/03/16/which-is-better-seo-manual-reporting-or-automated-seo-reporting/?sh=1aa3922f59e0

https://www.hubspot.com/hubfs/State-of-Marketing%20(2).pdf

https://www.forbes.com/sites/forbesagencycouncil/2016/07/21/can-seo-be-automated/?sh=7bc5f1661edf

https://www.youtube.com/watch?v=HyIXvIaUlLk

https://sejr.nl/seo-trends-2022

https://www.jpost.com/special-content/6-seo-experts-and-trends-to-follow-in-2021-663139

https://www.cyberclick.net/numericalblogen/seo-automation-what-it-is-tools-and-trends

https://www.youtube.com/watch?v=Dv-44E0lPog

https://neilpatel.com/blog/automated-marketing/

https://www.linkedin.com/in/dovidfarkas

https://www.screamingfrog.co.uk/seo-spider/

https://help.seranking.com/knowledge-base/integrations/
Leave comment
Your email address will not be published. Required fields are marked *
Author Info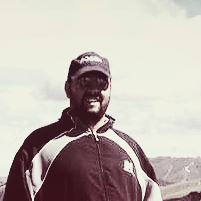 Mark Raymond
Content Developer at GoodFirms