Best Real Estate CRM Software
Are you searching for the real estate CRM software that can assist you in gathering, sustaining, and converting contacts to patrons and further managing the post-sales relationship? Real estate CRM allows companies to merge information from all the lead generation sources into one place. Most real estate software offers a customizable auto-reply feature that empowers you to provide instantaneous responses to contacts. Moreover, CRMs can give reports on open rates of emails, click-through rates, and other valuable data. So, pick a firm from the below-listed CRM for real estate agents to automate tasks and workflow: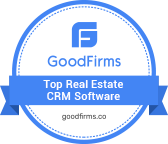 A Reviews List of Real Estate CRM Software
Introduction to Buyer's Guide For Real Estate CRM Software
The real estate industry holds a unique position in the global financial system, and its performance determines the stability of the economy. Any fault in their process can affect financial institutions like the banking system, private lending firms, stock markets, and other financial institutes. It is a challenging business that demands knowledge, customer relationship, networking, and perseverance. A well-drafted customer relationship strategy could help real estate enterprises survive and rise in favorable circumstances. The capacity of any company to efficiently acquire customers retain customers, and boost sales describes the level of Customer relationship management (CRM).
It seems easy, but in reality, it requires many efforts to keep customers engaged and satisfied with the service, especially with the legacy system. This is the reason why many real estate developers have turned towards robust technology like real estate CRM software. CRM software for real estate could bring unlimited advantages to the business, but the user needs to select the right CRM software. However, finding the right software could be a different ball game as the selection criteria could vary based on the size of the business, requirements, and budget.
This buyer guide is intended to help real estate developers, brokers, and agents draw important aspects of the real estate CRM software and understand the need to filter the best real estate CRM software for the business.
Why Customer Relationship Is Important For Real Estate Developers?
Considering the fact that buying a property could be a few of the largest investments made by any individual, consumers must have complete faith in the real estate organization or agent. Real estate businesses should ensure customers get value for money, and for this, they need to communicate with consumers to understand their needs. But besides identifying the customer needs, one of the biggest painstaking tasks for real estate dealers is to identify the potential buyers, and it becomes even more complicated when there is no appropriate system or channel. In this regard, real estate owners with effective customer management skills have a better advantage in winning the customers. They are efficient in collecting information about customer requirements, segregating customers as per their needs, and targeting potential clients. It allows them to grab every opportunity to improve the customer conversion rate by conducting a lead generation campaign, analyzing consumers' interests, providing prompt customer service, etc. They can easily maneuver their business model from "Business-centric" to "Customer-centric." Real Estate CRM or Real Estate Customer Relationship Management helps in building better bonding between customers and real estate organizations. The real estate business with poor customer relationship management can damage brand reputation and bring revenue loss.
What Is Real Estate CRM Software?
Real Estate CRM Software is a tool that helps realtors to manage their business leads, manage customer contact, track lead generation programs, prepare price quotes, etc. The dynamic capabilities of Real Estate CRM Software to automate repetitive manual tasks and manage the customers' data can help realtors in building strong customer relationships. The real estate CRM software assists users to drive customers through the sales funnel effortlessly and enables them to collect the customers' information like demographics, purchasing history, communication medium, etc.
Who Uses Real Estate CRM Software?
Real-Estate Developers

Brokers

Property dealers
How Does Real Estate CRM Software Help to Overcome the Challenges of The Real Estate Business?
Lack of transparency in the Traditional Methods: Lack of transparency in the customer data is a common issue with the traditional method for customer management. The data source is highly volatile, and the error ratio remains high, and with the unstructured data, it becomes difficult to generate accurate reports or figures of business performance.
Solution: CRM for real estate developers can solve these issues by allowing users to capture and store data with minimum errors. It allows to even edit or update the data automatically.
The communication gap in the Traditional Method: Effective communication is quintessential for any business process to acquire customers. A lack of communication in real estate means losing customers, and the traditional approaches are not efficient for propagating target-oriented communication.
Solution: Real estate CRM software fills the void in the communication channel and enables to send messages at the right time to the right person. Besides that, it tracks the entire communication that takes place between the customers and business owners. Not just the customers, with the right kind of real estate CRM software, real estate developers can fine-tune their internal communication which can lead to better business performance.
Customer management and identifying quality lead: Traditional customer management can allow the business to connect with its customers, but it cannot filter potential customers or leads.
Solution: The CRM for real estate businesses fused with the latest technology enables users to connect with the customers and filters the potential leads from the list. It gets relatively easier to forecast business growth when there is a list of potential buyers in hand.
Tracking contract details and better transactions: Long payment cycles are often seen as a setback for a well-performing real estate business. The traditional approach often does not help to manage customers' different payment structures and track the payment schedule.
Solution: The real estate CRM solution can streamline the payment process and even customize the payment schemes. An efficient payment system provides complete transparency to the real estate business owner.
The real estate CRM software nullifies the challenges of the legacy system, but it also contributes to enhancing the business profitability by using its exceptional features. Here are the real estate CRM software benefits.
What Are the Benefits of Real Estate CRM Software?
Better lead management: Real estate companies can increase their customer conversion rate with real estate CRM software. The CRM for real estate developers provides lead management features that allow them to collect leads from various platforms and social media sites. The users can even sort the hot leads from the regular leads and assign them to the sales team.

Improves organization performance: The real estate CRM software can manage activities like marketing campaigns, customer communication, project tasks, and customer contacts. It is a one-stop solution for all real estate-related activities and enables realtors to enhance their work efficiency by managing all these activities from one place.

Manage marketing campaigns: Sales and marketing are the backbone of a successful real estate business—the real estate CRM software can excel in the marketing efforts by automating the promotional campaigns. The users can even track the marketing campaigns and analyze which types of campaigns are more successful or best for the business.

Generate invoices and transaction management: The top real estate CRM software is packed with features that help in the management of financial transactions. The tool allows for generating invoices and takes follow-up on pending payments. The automatic calculation of brokerage, taxes and interests keeps the business on top of financial management.

Reduce costs on sales activity: Real estate CRM software are efficient in managing leads and takes away a lot of burden from the sales team. It helps an organization to save costs on activities like lead qualification and customer communication.

Workflow automation

: Workflow automation enables organizations to maximize their efficiency. In real estate,

workflow automation

could mean getting notified immediately whenever there is some new lead identified and automatically storing the information to take follow-up. The CRM for the real estate business could help to streamline the business process in this aspect and improve the work quality.

Reporting and analytics: Real estate CRM software gives a detailed insight into customer interaction and roadblocks in acquiring customers. The analytic reports also shed light on the sales performance that facilitates real estate developers to decide on their sales strategies.

Importing data: CRM for real estate business can help import data from various digital sources automatically; it can help to orchestrate data to derive business-specific insights. Real estate companies can even use this data to design customer retention strategies and improve service quality.
Essential Features of Real Estate CRM Software:
Lead scoring and lead management

Contact management

Marketing automation

Email marketing and drip marketing

Invoicing

Reporting and data analytics

Marketing automation

Integration with multiple channels

Increase productivity

Fast respond to customer enquires

Workflow automation

Real-time communication

Support mobile devices

Third-party integration
Key Considerations to Choose The Best Real Estate CRM Software
Align tools with business requirements: Define your business requirements before buying a real estate CRM software There are high-end real estate CRM tools packed with features, but the business might not use all of these features. So the real estate business must have clarity on its requirements.

Free trial version: If the users are not sure about the software, free trials are the best way to explore the top real estate CRM software. Such a facility enables the users to get an idea about all the features and the quality of the support services.

Pricing: The real estate CRM software comes in all sizes and packages. The user must see whether the software offers value for money and whether there are any additional charges for customer support, storage, maintenance, or staff training.

Third-party integration: Buyers usually prefer an online real estate marketplace or website to buy the property. The top real estate CRM software that integrates well with such platforms has great value. It helps customers to view the latest details on the property while keeping the real estate developers updated on the real estate market.

Automatically syncs all activities: The best real estate CRM software should be capable of syncing all the actions taking place in the background. It must sync new leads, emails, text messages, customer requests, customer contacts, sales reports, etc., automatically into the system.

Customized reporting: Customized reporting can let real estate developers retrieve information on particular metrics.

Scalable: The real estate CRM software solutions should be scalable enough to meet the growing needs of the business. It should not have data loss or downtime issues as the software scales up with expanding business operations.
These are some key considerations users can take into account before investing in a real estate CRM solution. Also, potential buyers can compare real estate CRM software features and pricing to select the best real estate CRM system.
Future Trends In Real Estate CRM Software
Artificial intelligence (AI): There is much anticipation about the artificial intelligence application in real estate. Like every other industry and sector, the real estate industry also has huge opportunities for artificial intelligence. It has the potential to change the trend of how real estate developers predict market growth and revenue generation. The intelligent algorithm is capable of delivering more than its expectations. Real estate developers can use AI-powered real estate CRM solutions to analyze the risk associated with the customer's transactions and predict property value.

Augmented reality (AR) and virtual reality (VR) technologies: AR and VR is a big breakthrough in the technology sector, and it has amazing application in the real estate business. One of its applications is in marketing the property. The real estate developers usually use brochures and colorful prints to showcase the establishment that hasn't been built yet. The AR/VR can help developers to visualize the properties with all the amenities just like any real objects. It makes the task of the team easy, marketing and selling property with less time and investment. It is just one application, but VR/AR has a whole gamut of applications in the real estate sector like virtual advice for tenants, virtual staging, and virtual commerce.

Chatbots: Chatbots could assist real estate businesses to enhance customer service by answering their queries promptly without any human intervention and save a lot of time for help desk personnel answering basic questions. The chatbot's conversation can be tracked, and vital information regarding the customers can be retrieved. It can act as one more medium to build customer relationships.
How Can Real Estate CRM Software Increase the Customer Conversion Rate?
Real estate CRM solutions can make a huge difference in capturing leads. They track important metrics like customer conversation, buying history, budget, location preference, etc. The CRM software can collect leads from all the sources like social media campaigns, websites, emails, and various other sources. Once the leads are collected from the sources, developers can segregate those leads as per the customer preferences and send messages to the customer if their requirement matches the property. The software also tracks the conversation automatically and even guides the agent on how to take forward the conversation for a positive outcome.
Additionally, the real estate CRM solutions also gather the lead score that further helps to filter the quality leads and prioritize the sales task. It can help to increase the conversion rate. Besides that, the analytic reports can give a fair idea to agents on the lead performance, and if there is any change required in the lead follow-up process, it can be done in the early phase of the sales.
What Is The Average Cost of Real Estate CRM Software?
Real estate CRM software can be used by a large brokerage firm, medium-sized agency, or a solo real estate agent. The real estate CRM pricing could vary based on the user's business size and requirements. The average cost of real estate CRM software could be as low as $10/month or can be high as $299/month or more.
Real estate CRM software for start-ups: Startups and small-scale businesses have to manage the business with a minimum expense, and buying CRM software without analyzing the company's current and future needs could be an expensive affair. Besides that, the real estate business is a highly profitable business, and it pays reasonably well, but the market is competitive, and startups cannot take risks by spending a large amount of money in their initial phases. If real estate CRM software is on their software buying list then there are tools like Track the lead and LeadMaster that could be cost-effective. Track the lead tool has a starting price of $10/month with all the necessary features. The user can also consider LeadMaster with a starting price of $15/month; the tool stands out with its attractive prices and rich set of features. Both these tools offer free trials and support mobile versions for android and apple. Besides these tools, there are a few more that could turn out as good alternatives for budget-friendly real estate CRM tools, which include Ascend CRM, LionDesk, TheWiseAgent, RealtyBackOffice, and IntellioCRM.
Real estate CRM software for mid-size and large scale businesses: The mid-size companies who wish to allot a budget for this software can opt for LeadSimple with a starting price of $65/month. The software easily integrates with property management software, which makes it unique. The tool offers a 14-day free trial. The other tool that could be productive for a mid-size company is IDXMatrix which comes at $49.99/month. Large-scale real estate businesses who wish to invest in premium features can consider buying enterprise-level real estate CRM software like Hire Aiva with a starting price of $299/month. The fast lead capturing capacity, synchronizing leads in real-time, and few advanced features qualify the tool as one of the popular real estate CRM software. A similar tool that falls in the same category includes Apto with a starting price of $129/month manages contacts, properties, deals, listing, etc. Few more enterprise-level tools that could fulfill large scale business requirements include RealtyWare, Contactually, LeadSquared, and InvestorFuse.
Free and Open Source Real Estate CRM software: Free and open source real estate CRM software allows users to reduce the cost of ownership and provides flexibility to customize the CRM features as per the business requirements. Real estate startups or individual brokers can easily benefit from this type of real estate CRM software.
Why Refer to Goodfirms' List of Real Estate CRM Software?
GoodFirms is a transparent review and rating platform for IT solutions. The platform encompasses software from different industries and ensures that customers can find the right software product for their organization. The web portal holds valuable information about the software with in-depth details of its features, cost, and services, making the software selection much easier.
Conclusion
The real estate business thrives on a strong customer relationship, and it largely depends on how well the business owners can manage the customer records and fulfill their needs. Investing in the best Real estate CRM software could be a wise decision as it allows the estate developers in handling customer records and understanding their needs. If you are keen on picking the right solution then, do not hesitate to refer to the list of best real estate CRM software.