Pricing Guide for CRM software
CRM software's powerful tools have proven to improve sales productivity and customer retention for all types of businesses. Being one of the largest software markets, this intensive competitive software solution is marketed by a plethora of vendors with varied pricing models and deployment models. Calculating the accurate costs, transparent costs, hidden costs, and gaining cost-saving insights on the CRM tools can be very challenging for service seekers. Keeping the needs of small, medium, and large scale businesses in mind, this pricing guide makes an in-depth analysis of the costs, pricing schemes, payment policies, and methods of 5 leading CRM software solutions.
Global CRM Software Market Overview
The global customer relationship management market is expected to expand at a CAGR of 14.2% from 2020 to 2027. In the era of the social customer, many traditional CRM software vendors have adopted cloud technology to provide 24/7 remote access to all teams. Moreover, with the addition of technologies such as artificial intelligence and predictive analytics and development of social monitoring trends in the CRM world, the Global value of CRM software successfully exceeded all software solutions in 2019. The below infographic illustrates why CRM software is deployed by all types of businesses globally.
GoodFirms surveyed top corporates around the world to study the usage, popularity, and price factors related to the CRM software. Firms from diverse industries participated in the survey and even amid COVID 19 situations responded to our survey questionnaire.
Here is the full list of our Research Partners, who participated in the survey and provided thorough perspectives for the research.
In the survey regarding the frequently used software by companies, around 63.6% of companies confirmed that they are using a CRM software solution apart from other software such as Project management, and Accounting software.
Key takeaways:
CRM, Project management, and Accounting software are the most used software solutions.
63. 6% of participating companies use CRM software.
CRM is one of the major and most frequently deployed software by organizations around the world.
In the same survey, companies were also asked about the CRM software that they use frequently. Hubspot, Zoho CRM, and Bitrix emerged as the ruling software among the participating companies. But, few other respondents considered other best CRM software options depending upon their business requirements.
Key takeaways:
Hubspot CRM appeared to be at the pinnacle with 50% of people preferring to use Hubspot.
Zoho and Bitrix were the other two most preferred CRMs with a 16.66% preference percentage each.
Global Market Competition by the CRM software Vendors
CRM software vendors primarily compete with each other for various CRM software categories such as Small business CRM, Enterprise CRM modules, Business intelligence CRM, Salesforce automation CRM, Medium scale business CRM applications, Standalone CRM solutions, Embedded CRM solutions and many more.
The 100+ billion dollar CRM software industry is a competitive field that demands constant innovation and upgraded systems. Therefore, software vendors keep adding features that reflect contemporary technology. CRM software that is unable to integrate with an organization's other software such as sales, marketing, business intelligence, etc. cannot unlock the full potential. Vendors compete to make prescient planning of the integration needs to build a robust solution across all industry verticals.
Regional Insights for CRM software Market
North America continues to be the largest market for CRM software, followed by Europe. However, growth in Europe remained subdued due to the impact of Brexit led economic disturbances in the region. The shrinking GDP of China and India, the two major players in the Asia Pacific region, has also affected the CRM market, but the impact was largely mitigated due to the rise of the ecommerce industry in these economies, which compensated for the sluggish economic conditions. The rise of startup culture in India and recent investments in Japan's startups worth billions of dollars has sparked the growth possibilities for the CRM software industry.
Many tech giants offer CRM solutions with both standalone models such as that of Salesforce or as an integrated model with ERP solutions such as offered by tech giants- Oracle, Microsoft, SAP AG. Renowned software companies such as Hubspot offer a completely free CRM software solution. Salesforce continues to dominate the entire CRM tech market in terms of revenue and market share, but the trend of regional favorites is on the rise with CRM vendors such as Zoho gaining continuous momentum.
Global Consumption of CRM software
Even in gloomy economic conditions, CRM is poised to flourish due to the structural and functional advantages it possesses. CRM software is gaining traction due to multiple factors.
Below are major factors fuelling Global consumption of CRM Software:
Increased focus on customer experience and engagement
The growing importance of customer service in Industry 4.0
Focus on building customer loyalty and long-term retention
Increased interaction of customers on social media
Global Transition from push marketing to pull marketing strategy
Companies shifting their marketing efforts to real-time digital solutions
Development of cloud computing technology
Technological advances in data analytics, predictive analytics, and web analytics
Increased proximity of sales, marketing, and customer service departments
Almost all industries deploy CRM software for effective customer relationship management in both B2B and B2C market segments.
Recent Global Economic Impact on the CRM Industry
CRM solutions may see a greater surge due to pandemic conditions around the world. The Work from Home (WFH) mandate requires companies to equip their employees with technological solutions to reach out and manage their customers, pursue sales, and serve customers. The development of the e-commerce industry around the world has also increased the demand for CRM software. Companies are leveraging CRM software to fight COVID 19 Pandemic caused disruptions, says Gene Marks in the recent Forbes article.
What are the Costs Associated With CRM Software?
While large institutions with robust IT infrastructure, private servers, ample IT staff, and deployment capabilities, prefer deploying on-premise CRM systems, impenetrable security features, cost flexibility, agility, and mobility has made cloud adoption a viable option for small and medium enterprises. The popularity of Cloud-based CRM platforms is growing day by day due to their faster innovation cycles, attractive user interfaces, high-speed of working, and easy integrations.
Both on-premise and cloud-based CRM applications have a different cost structure. We have analyzed all costs associated with both types of deployment methods;
DEPLOYMENT COSTS
On-Premise
Overall Package Costs: It is the one time charge that you will be paying for purchasing the software and associated license to use it. The overall package cost will vary according to the features that you chose to deploy. It depends on certain factors such as the number of records you want to hold, data storage that you need, add-ons such as integrations and capabilities that you have opted for, and the type of reporting and analytics you need.
Customization: Costs associated with building customized dashboards for the businesses. Software vendors will charge you for creating an automated workflow, templates, forms, etc. If you were saving all your contacts/client lists in other software or excel sheets, then the vendor will charge you for importing them to the CRM software.
Cloud-based
Subscription Costs: It is the cost of the plan that you have chosen. CRM software vendors generally provide three-four different plans based on the features that each plan will provide. You have to choose the most suitable one of them. Most Cloud-based CRM software vendors provide monthly or yearly subscription options. Once you have bought a subscription, you need only a computer and internet connection, and you can start using it.
Premium Addon costs: If you have opted for other premium services apart from the subscription plan for getting advanced 3rd party integrations, Artificial Intelligence features, or Advanced analytics not included in the plan; then you have to pay for it separately.
TRAINING COSTS
On-Premise
Overall staff training costs: Generally, during deployment of the software in case of on-premise CRM software, a training professional will assist you in installing and running all functionalities of the application. While most vendors provide this free of cost for the first time, some vendors may charge for it.
Training costs depend on: The number of staff members you want to get trained, training type: Whether the training is through a webinar, in-person, phone support, etc.
Cloud-based
Overall staff training costs: Generally, cloud-based software is intuitive and user-friendly, and using them doesn't require special training. Still, to understand the complete functionalities, training support is provided by vendors. It can be paid or free, depending on the vendor or the plan that you have chosen.
Training costs depend on: The number of users, the type of support you need: Email support, chat support, in-person, call support, etc.
MAINTENANCE COSTS
On-Premise
Overall maintenance costs: Costs associated with maintaining uptime of the service, backup and security measures, disaster recovery fall into the maintenance costs category. Generally, vendors charge a fraction of your overall plan as a maintenance fee. It can be one-time or on a regular interval or as and when needed.
Cloud-based
Overall maintenance costs: As there is no infrastructure involved on the part of the vendor, the cloud services are mostly maintenance-free. Normally, the responsibility of keeping uptime and servers running lies with the vendor, still some vendors may charge you for taking extra backups or recovery.
UPGRADE COSTS
On-Premise
Upgrade costs: Generally, for the on-premise CRM software, the upgrade costs are higher as any change may affect the whole deployed system, and re-installation may be required. Upgrades are allowed for additional features, extending the plan on more systems, adding more servers, etc.
Cloud-based
Upgrade costs: Enhancement of data storage capacity, number of allowed admins/users, number of emails, automation features, etc. may require you to upgrade your existing plan or request additional features in the existing plan or migrate to a higher plan. Upgrading will require you to pay more than your existing cost.
CUSTOMER SUPPORT COSTS
On-Premise
Customer support costs: Generally, large organizations choosing the on-premise software have their own IT personnel to take care of technical issues or user-related queries, but still, sometimes even the IT people might require to call the support for solutions. The customer support services are either free or paid, depending on the vendor and the plan.
Cloud-based
Customer support costs: If you don't have your own IT team that can take care of any technical glitches, downtimes, or user issues, then you might require to contact your software vendor to provide you assistance in solving such issues. Depending on the plan which you have chosen, you might get a free or paid support service.

Pricing Determinants for CRM software:
1. Business type and size
Your CRM software pricings vary based on the type of business you do and the size of your enterprise. Mostly the basic plans cater to small-size businesses, the Mid-market plans are preferred by medium scale businesses, and the professional or enterprise plans cater perfectly for large scale businesses.
Example: All software vendors such as Zoho, Appitvo, Pipedrive, Copper, and Agile provide different plans according to the size of your business. Copper CRM has plans for small business, midmarket, and Enterprise plans.
Key Takeaways:
According to a survey conducted by GoodFirms,
40% of the respondents preferred basic plans
40% of respondents preferred Medium plans
20% of respondents preferred professional software plans for their business
These figures suggest that the basic and medium plans are the most demanded plans. The professional plan caters to large organizations.
2. Current and Future Needs of your business
Your business needs might change dynamically as you scale up, enter into new markets, go for mergers and acquisitions, or when there are changes in the technology. Your CRM software should be able to adjust, modify, and fit according to the changing needs of your business.
For instance, Zoho CRM offers a total of 6 CRM plans. All these plans can take care of the current and future needs of your business. For instance, its Standard plan caters well to the needs of small businesses, the Professional plan can take care of the medium-scale businesses, and the Enterprise plan can efficiently match the needs of the large scale businesses. But businesses have the potential to grow from large scale to very large-sized conglomerates too. Zoho has a plan for that too-its Ultimate plan.
3. Vendor's reliability
The vendor's reliability is what determines its worth and sustainability. You can't expect to grow with an unreliable vendor. Reliable vendors with thousands of existing customers, organic customer reviews on multiple sites, mentions in prestigious research quadrants will cost you more but that's worth it.
For example, Pipedrive CRM got mentioned in software reviews' quadrant in the year 2018 and 2019 while Apptivo CRM featured in over a dozen reputable digests such as Inc.com and the Entrepreneur.
4. Adherence to Government Regulations
Governments restrict companies from misusing customer data, and to protect consumer rights, Governments' appointed regulatory bodies intervene to regulate policies and standard procedures followed by software vendors. The vendors that regularly pay extra charges to maintain the compliance can charge accordingly. But it is advisable to stay with such companies to make sure you are with the legally compliant group.
For instance, Copper CRM is EU-US privacy shield certified, SOC2 compliant, Pipedrive is GDPR compliant, and so on.
5. Infrastructure requirements
You may or may not have the required infrastructure to support the deployment of the CRM software. Vendors may charge for providing the extra resources.
Pricing Analysis of the Top 5 CRM software
Vendors know that the most profitable pricing strategy for their business is the one that provides their customers with immense value, best features, and a balanced revenue stream for themselves. Most vendors include more than two pricing strategies that give them more room to accommodate different types of customers at varying pricing points. Have a look at the below chart to see the pricing models/pricing strategies of the top 5 CRM software vendors:
It is clear that CRM software vendors use more than one pricing strategy to market their products. We are going to analyze the pricing strategies of the top 5 CRM vendors and the three most valuable of their pricing plans in detail. Goodfirms has chosen the three plans according to their relevance and utility for small-size, medium-size, and large-size businesses. We will also be throwing light on five major pricing strategies closely associated with the top 5 CRM software. Though one vendor can deploy more multiple pricing strategies, for your convenience, we will discuss one pricing strategy with each of the 5 top CRM software providers.
Zoho architects future-proof CRM solutions with a 360-degree view of customer-centric digital transformation. With over 150,000 businesses in 180 countries that use Zoho CRM to convert more leads, engage with customers, and grow their revenue, it is a popular customer relationship management software.
It offers four CRM plans: Standard, Professional, Enterprise, and Ultimate. Apart from these, it also has two more CRM plans-Starter and Zoho Free edition.
ZOHO CRM (Subscription-Based Pricing Model)
The subscription-based pricing model by the vendors allows users to rent the service from them on a monthly or yearly basis. It is a recurring revenue business model that can be found in major businesses such as Netflix, Amazon Web Services, SaaS-based software, and telecommunication business, and many more. It is a very popular pricing model when it comes to SaaS-based services, as users can shift to other plans and vendors with ease if they are not satisfied with the service. Let us take the example of Zoho CRM to discuss the pros and cons of this pricing model:
Pros:
As a buyer, you don't need to pay a hefty upfront cost as a 'one-time purchasing price' to Zoho. So, onboarding becomes light and affordable in your pocket.
You have the option to choose from monthly and yearly plans. Yearly plans are offered at discounted rates. For instance, Zoho's enterprise price will cost INR 7200 less if you go for an annual plan rather than the monthly one. (A saving of whopping 28%).
Zoho keeps adding better features and improved services as customers will renew plans only if they get the best and updated services.
Cons:
Dependency issues: Subscription pricing models, as such offered by Zoho, can make your entire staff dependent on the availability of the service so much that you may find it difficult to run a business without it.
Zoho Pricing analysis: Plan-wise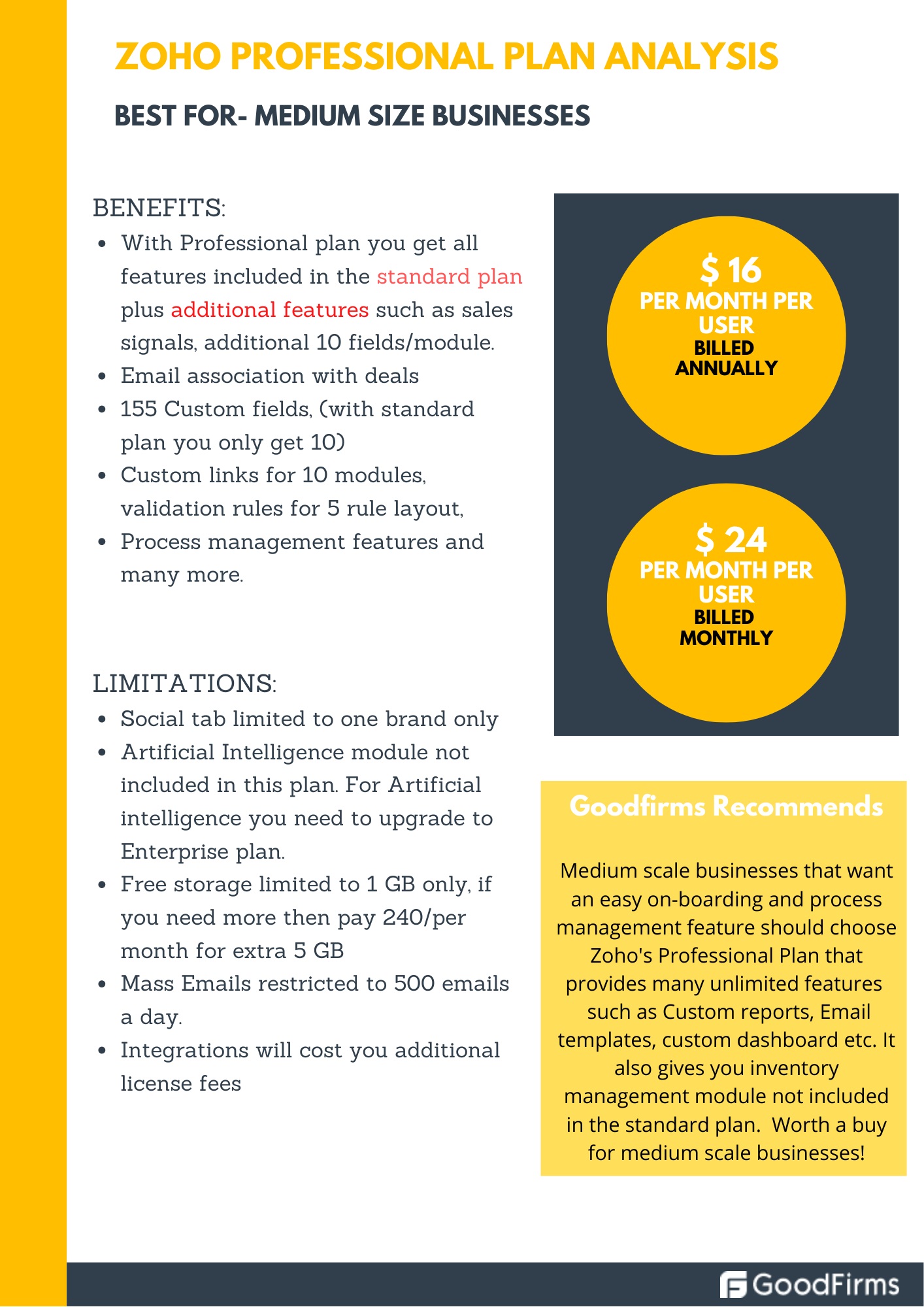 Agile CRM is a customer relationship management software with sales, service, and marketing automation on a single platform. Apptivo caters to more than 15K businesses. It offers end-to-end CRM solutions that increase collaboration between sales and marketing, engages more leads, and provide you with a 360-degree customer view to grow your business. It offers four CRM solutions, out of which one is a free plan, and the rest three are paid ones: Free, Starter, Regular, and Enterprise.
Agile CRM (Freemium Pricing Model)
Most software vendors offer a basic version of their software suite for free to provide users an idea of the functionality and utility of their software. Freemium works if the company can eventually get the customers on board to upgrade their free plans to premium ones with more features and access. This strategy works best for targeting new businesses, startups, or proprietor businesses that may eventually grow into mammoths but stay with their already trusted vendor. Let us throw more light on the freemium pricing model in reference to Agile CRM.
Pros:
Agile CRM's freemium pricing model allows users to set CRM for free without paying a penny.
Small business owners that want to deploy CRM at their service but don't want to allocate any resources can go with this plan.
You have the option to upgrade to three other plans that provide more features when your business starts getting more traction.
Cons:
Like many freemium plans, you don't get full-functionality in the free plan.
Agile CRM Pricing analysis: Plan-wise
Pipedrive CRM solutions allow businesses to sort their sales, eliminate admin work and repetitive tasks by automation, and track communications. Pipedrive is used by over 90000 businesses around the world, and it has robust customer support with 60 secs or less response time. It offers four paid CRM plans: Essential, Advanced, Professional, and Enterprise.
Pipedrive CRM (Tiered Pricing Model)
Tiered pricing solutions are effective pricing architectures that are designed to accommodate maximum users to achieve the highest possible revenue potential. Multiple packages in tiered pricing models meet the requirements of different buying personas. Let us analyze Pipedrive's pricing scheme as a tiered pricing model.
Pros:
Pipedrive CRM's tiered pricing model allows users to choose from four different plans-Essential, Advanced, Professional, and Enterprise.
Tiered pricing appeals to multiple audiences. Organizations can choose the perfect package that suits their needs from multiple options.
You have the option to upgrade or downgrade plans whenever your business requires you to do so.
Cons:
Multiple buying options can confuse buyers, especially first-time buyers.
Pipedrive CRM Pricing analysis: Plan-wise: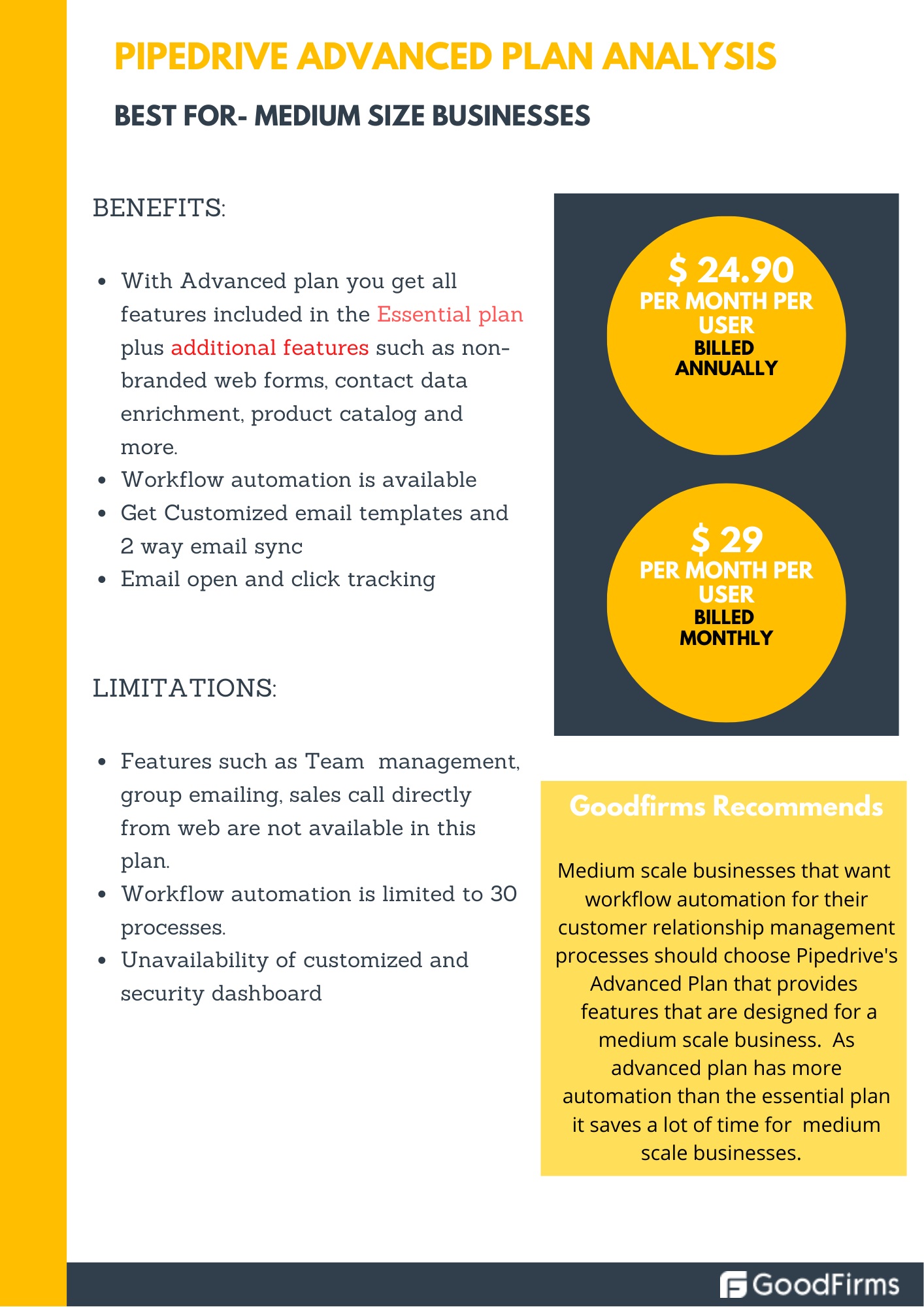 Used by over 150 K businesses in over 194 countries, Apptivo CRM provides affordable business solutions to attract, engage, delight, and retain more clients. With integrations such as G-Suite, Slack, and Office 365, Apptivo increases productivity with easy data syncing across multiple applications. It offers four CRM plans, out of which one is a free plan, and the rest three are paid ones: Starter (Free Plan), Premium, Ultimate, and Enterprise.
Apptivo CRM (Usage-based Pricing Model)
Though Apptivo has a clear tier-based pricing model, it is formulated to keep the usage pricing model. Usage-based pricing models are also known as 'Pay as you Go.' It correlates price with the usage. The structured tiered plans define the limits for usages of certain features such as the number of emails that can be sent, data storage limits per user, limits on custom fields, etc. Vendors will open the barrier or usage caps only when you upgrade to a higher package or pay extra for that particular feature. Let us study Apptivo CRM in light of the usage-based pricing model. Though Apptivo has a clear tier-based pricing scheme, it is formulated, keeping the usage pricing model in mind.
Pros:
You can get a feature for a low price if you are not a heavy user. For example, if your requirement is to send less than 1000 mass emails, you can get that in the $10 per month premium plan of Apptivo. If you scale up your business and in any month you want to send more than 1000* mass emails, then you can opt for their Ultimate plan that allows you to send 3000* mass emails, if you still need more then go for the enterprise plan with capacity to shoot 5000* mass emails. (*Mass emails per month per user).
Pay as minimum as you can, based on your usage. It saves you money.
Cons:
You cannot enjoy a feature to its full limit. Feature usage is limited on the basis of pricing. Apptivo CRM's premium plan will allow only 3 GB usage per user in a $10 per user per month plan, but if you want more than that you will have to shift to the Ultimate plan that offers upto 10 GB per user but will cost you $25 per user per month. So, one has to use storage consciously. This can sometimes be irritating to monitor.
Apptivo CRM Pricing analysis: Plan-wise:
Copper CRM is a simple and intuitive CRM solution used by over 12000 businesses in 110 countries around the world. Available in 9 languages, it integrates with G-Suite to provide you with a one-stop solution for managing all customer relationships. It offers three paid plans-Basic, Professional, and Business.
Copper CRM (User-based Pricing Model)
Many SaaS models have per-user pricing plans. It has a simple approach: the pricing plan and structure denotes everything offered for a single user. If you add more users, the price is multiplied by the number of added users. The user-based pricing model is a logical example of pricing flexibility and professionalism that SaaS models represent. If a small company has only one person employed to handle CRM, then one user plan can be bought. If it scales up and adds more users, then all it has to do is to increase the number to two users and so forth. Let us study Copper CRM as an example of a user-based pricing model.
Pros:
It is simple to understand. You can start with any of Copper's per-user plans as above- Basic, Professional, and Business. The prices reflect per user per month pricing.
Pay only for the users whom you have added. With this direct pricing method, you can calculate the costs easily.
Cons:
You don't get the benefit of onboarding more members to your plan. The cost remains the same irrespective of the number of users and the revenue you are generating.
Copper CRM Pricing analysis: Plan-wise:
Top 5 CRM software Price Comparison chart
Key Takeaways:
#1 The Average costs of CRM for one User per month are around $ 15 (Small business plans), $25 for Medium-Sized businesses, and $ 50 for large size businesses.
#2 In cloud-based CRMs, other costs are mostly for third party integrations, data storage, data backup, and disaster recovery.
#3 Small businesses can onboard CRM solutions with free plans also.
#4 If you choose annual subscriptions, you need to pay less.
#5 Center Stage effect: The Best buy for You
If you have noticed that all top 5 CRM software has highlighted one of their software plans with visual effect or distinct mention, then we guess you already know center stage effect means. With center stage effect, the software vendors indirectly pitch you their most preferred and popular plan. For instance, Zoho mentions Enterprise plan as the 'most popular,' Agile CRM markets Regular plan as 'popular,' Pipedrive highlights the professional plan as 'recommended,' Apptivo displays Premium plan as 'featured,' and Copper establishes its Professional plan as 'Best Value.' These plans should be keenly considered by the service seekers.
Conclusion
If you are keen on investing in CRM software, then please feel free to learn about the functionality, pricing options, and screenshots of more than 100 CRM systems on our best CRM software listing page. If you are looking for a free and open source CRM software or if you want more information regarding the features, types, and usage of the CRM software, you can check our Buyer's guide for CRM software.
Leave comment
Your email address will not be published. Required fields are marked *
Author Info
James Mordy
Content Writer at GoodFirms