EngageBay is a simple, affordable, all-in-one marketing automation software built for small businesses and startups to acquire, engage, nurture web visitors and convert them to happy customers. Acquire leads through lead generation forms and popups, engage web visitors through beautiful landing pages, nurture them through engaging emails and automate your marketing funnel through marketing automation. EngageBay CRM offers a rich feature set that enables you to manage your customer relationships better. It also comes with a full stack of Marketing, Sales, and Service automation features to scale your business.
Computer-software
Consumer-services
Education-management
E-learning
Higher-education
Information-technology-services
Marketing-advertising
7 Industries
Screenshot & Video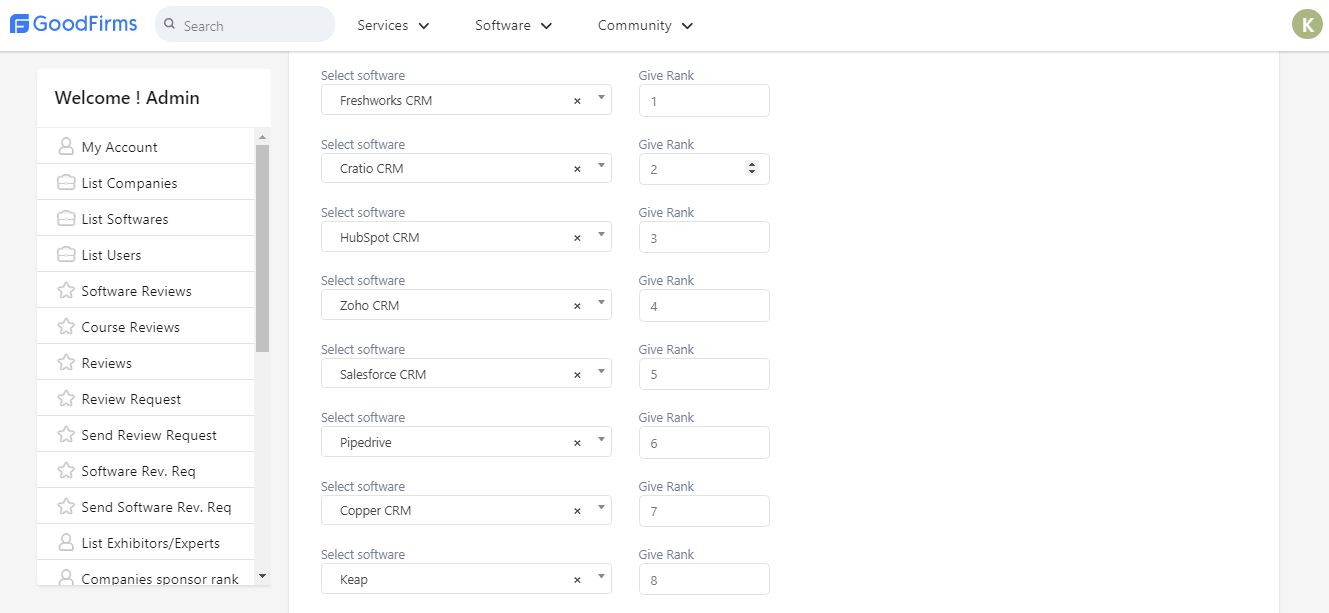 LICENSING & DEPLOYMENT
Proprietary

Cloud Hosted

Web-based
Knowledge Base
Help Guides

Video Guides

Blogs
EngageBay Executive Interview
Sreedhar Ambati
Founder & CEO, EngageBay
Visit Profile
Kindly share your feedback on how GoodFirms has been doing so far in increasing your visibility among potential clients.
GoodFirms is highly recommended for their unbiased approach towards listing software and helping businesses to be visible to prospective clients. At EngageBay, we have worked with GoodFirms for over a year now, and we are satisfied with the volume and quality of leads coming from there.
Please introduce your product and give a brief about your role within the organization.
EngageBay is an affordable and integrated All-In-One Marketing, Sales, and Support platform with free CRM. I am the Founder and CEO of EngageBay. I started EngageBay with a goal to help growing businesses market better, sell faster, and support smarter in a very cost-effective way.
What was the objective behind coming up with this software?
In my interactions with other start-up founders, while making angel investments around 2016-17, I saw a big need for an affordable integrated All-in-One software - a single tool that streamlines all the marketing, sales, and support operations and still is affordable for any small business owner.

Since there was nothing that fitted the bill, we decided to build our own platform EngageBay and price at less than $1 a day which makes it super affordable for business of any kind.
How is your software beneficial from a value addition perspective to the clients compared to other software alternatives available in the market?
Getting a 360-degree customer view and aligning marketing, sales and support teams around this information is now the most critical thing for the success of any organization of any size. EngageBay is beneficial as it is a complete, all-in-one marketing, sales, and support CRM software. There are very few other integrated solutions in the market right now, the most notable one being HubSpot.
Secondly, it is the most affordable All-in-One software. Any small business owner focused on revenue and growth can easily afford it.
What industries do you generally cater to? Which industries in general are highly benefiting by using your software?
While EngageBay is a vertical independent tool that may be useful to any business owner, a majority of our customers are small business owners, agencies, and solopreneurs across the world.

We have users who are independent bloggers, real-estate professionals, travel & tourism businesses, hospitality professionals, healthcare professionals, and many others from different industry verticals.
What are the key features of your software that makes it stand apart from your competitor products in the market?
Like I already mentioned earlier, there are very few completely integrated solutions in the market. EngageBay has tightly integrated marketing, sales, and support features that can be accessed together in a single platform.

So whether it's email marketing automation, drip sequences, landing page builder, sales CRM, or helpdesk, it is all available at a single view. The software brings alignment between marketing, sales, and support teams and provides a 360-degree view of the customer to help teams provide rich customer experiences across all departments.

No other software provider offers so many tightly knit features at such a low price point.
What is the customer satisfaction rate according to you? What steps do you take to cater to your customer's needs and requirements?
We are rated above 4.5/5 on all popular online platforms like GoodFirms, G2, and Capterra, and many of our customers are also our brand ambassadors and they often share their positive experiences on social channels.

We prefer to keep our customers engaged and seek their feedback periodically. We identify our high-value customers as well as the 'at-risk' ones and we engage either segment accordingly.
Our award-winning support team always goes the extra mile to ensure that the customer is happy and satisfied. We are a very customer-focused organization by nature.
Are your customers repetitive? If yes, what is the percentage of repeat customers that you have?
We are a SaaS provider which means that our customers pay us on a recurring basis every month. This model makes it very important to keep customers happy always otherwise they'll churn away and move to alternative solutions.
Luckily, we have a very small churn when compared to industry standards. Almost all our customers renew their services.
Does your software product provide any resource or knowledge section for its users? If yes, what kind of material is provided to your users to help them get acquainted with your product?
Yes, we have a number of resources such as to-do guides, help guides, FAQs, videos, and a blog that is highly informational and resourceful.

Our knowledge base is an evolving repository with continuous updates on features and questions our customers asked over chats and tickets. This acts as a DIY resource for customers and lowers the dependency on human support.

We also have a dedicated YouTube channel with helpful videos to guide our customers.
What kind of support system do you offer to your clients for catering to their queries and issues?
Other than the resource base mentioned above, we offer 24/5 chat support, email support, and also phone support for our users and potential users to reach out to and have their queries answered and their issues resolved.
What has been the revenue for your product for 2020?
While we cannot disclose the information publicly, we are happy to provide some stats on growth:
We grew our user base to 29,500 in 2020 from less than 5000 in 2019.
Revenue skyrocketed by a staggering 340% in 2020.
Got so much customer love that we are consistently rated high on rating platforms.
Increased brand awareness and recognition by many popular blogs like Zapier, Digital.com, and GetApp
Influencers loved us and spread the word. Some of them include Lilach Bullock, Jeff Bullas, Shane Barker, and more.
Where do you see your product in the next 10 years?
We are at a very interesting place in the era of rapid adoption of technology and breakthroughs. AI in particular excites us. We believe AI will play a huge role in the areas we operate – marketing, sales, and support.

With so much data around customers being collected, a unified system like EngageBay can provide several insights to our customers on opportunities to maximize revenue and efficiency and provide a great customer experience.
EngageBay will continue to improve its product and aim to be the #1 All-in-One marketing, sales, and CRM software in the market.
EngageBay Pricing
Payment Frequency
Monthly Payment

Annual Subscription
EngageBay Reviews
Relevance
Most Recent
Rating: high to low
Rating: low to high
Write a Review
Lucia Jensen
, CEO at WeLoans
Posted on Jun 20, 2022
Engage Bay has allowed us to automate our brand's marketing processes which enables us to save time
Review Summary
We WeLoans have been using Engage Bay since the company started, and it has helped us identify new opportunities, ensure customers are satisfied, and convert our webpage visitors, among other solutions. Engage Bay is the CRM software we use in our company once a week to track our marketing, support, and sales team. In addition, Engage Bay streamlines tracking customer details by allowing us to store unlimited contacts that help us build strong relationships with our clients.
How frequently you use EngageBay?
Daily
What do you like the most about EngageBay?
It has fair pricing.
Engage Bay is an all-inclusive CRM software.
The software offers an integrated marketing platform.
They have a world-class Customer service team.
Best suited for small and medium-sized businesses.
What do you like the least about EngageBay?
It lacks some features like location and Google Meet.
It comes with limited landing page templates.
Eric F Montera
Posted on Dec 06, 2021
My handy business tool.
Review Summary
Engagebay has grew on me. It eases my workflow from planning to implementation. Automation is something I just learned coz I use to do things manually and relied only on social media. It really changed my perspective on CRM's and marketing tools. I can easily schedule appointments here. I can adjust and develop my email marketing flows and helps me generate leads quickly and easily. Also, the analytics comes in so handy, it gives me a better view of how everything is going as it is detailed enough for me. Plus, it is more affordable than other CRM or marketing tools. It is just making things less of a stress and I get to enjoy more of marketing and sales with just this.
Bea Lumayag
Posted on Jun 14, 2021
Automate posting at affordable price
Crypto13
Posted on May 12, 2021
EngageBay - A Revolutionary all-in-one system
Review Summary
This is the most powerful Digital Marketing, Sales, and Service system that I can find that allows the promotion of CryptoCurrency. The world needs to know of the revolutionary tech of decentralization of wealth and I can finally make that happen with the use of EngageBay. This tool is a revolutionary system that empowers small and marginalized businesses. Giving us the engine to take off and realize our full potential. EngageBay is a revolutionary system on its own that the world needs to know. It is a system that medium and small businesses can afford. But the system is sophisticated enough to handle the needs of businesses as they grow.
Jo Marian Lumayag
Posted on May 12, 2021
EngageBay An Impossible dream - Realized...
Review Summary
I am a digital marketing manager handling various clients with unique business nature. Each of those clients got their own clients and I handle them simultaneously without mixing up data and keeping track of each deal and process. Though each one provides their own preferred system where I can do my work when I am dealing with their specific task. I need my own system that can handle them all but something that is affordable - I am a person, not a corporation so budget matters. So I need something that has enough functionality to handle the complex nature of my work and still be affordable. It was an impossible dream until I found EngageBay. EngageBay allowed me to put all of my clients into one single platform without mixing up their data. I keep track of each call, email exchanges, chat sessions. I even make use of the ticketing system to be able to successfully process tasks and issues for individual clients. In some of my tasks, like scheduled posting, I am able to automate them. I am able to automate email marketing done for each client without getting lost in the track. There is a balance of power and affordability. I have noticed the system has changed significantly in just a year and has twice or more features when I first got it. I hope they send an email update containing the new feature release and some basic documentation on what they are about. As a Digital Marketing Manager, I am always eyeing any tech that can advance my arsenal. I think I already have a powerful weapon. I simply need to know more about it.
Maria Mildred Cunanan
Posted on May 12, 2021
Engagebay is my complete virtual tool
Review Summary
I am able to get my business virtual in the shortest possible time at an unbelievably affordable price. I am able to find my way through the system. The first try is a bit difficult. However, as soon as I found my way through a certain function, I was able to get through finding everything else with relative ease. This system allowed me to keep records of my contacts and the engagements we have. Keep call records, keep track of my deals, automate my marketing and sales, and many more.
Jaime Alain Avila
Posted on May 05, 2021
Marketing at its Greatness
Review Summary
Small software packed with Unparalleled Performance! I am doubtful at first when I saw the product. It has so many features, but it is inexpensive. I was just introduced to it. I am really amazed when it works. It is something I can use and even more. I hate it when it's making me now a Couch Potato! Everything is seamless! With easy click buttons and a user-friendly interface. I am not sure if that's a bad thing though. Maybe more tutorials on the existing features. There is still a lot that I need to explore. It pretty much covers everything I need for now. However, learning more about the system entails greater horizons.
Karla Mae Petalcorin
Posted on May 05, 2021
I am now gaining more views and earning more!
Review Summary
Using EngageBay All-in-One Suite helps make my tasks easier, seamless, and integrated. I keep track of my views reports, find audience details, and even notifying them about my new posts. With these benefits I am getting - I was able to save on expenses at the same time saves workload and focus more on content creation.
Sarahi Miranda
Posted on May 05, 2021
Interesting software
Review Summary
Pretty good products, relatively easy to use. Nothing amazing, but definitely functional.
Roy Flores
Posted on Apr 08, 2021
EngageBay change the way I do business Remarkably
Review Summary
Working on my marketing, communicating with clients, tracking leads, and other business functions are being done separately for me. I know I can do that in one place with systems like Hubspot, Salesforce, or Dynamics 365. However, the price tag that comes along with it is really big. So I settled in doing it with several affordable and free apps across various platforms. EngageBay changed the way I do business. It allows me to do marketing, track deals, and even communicate to clients via email, text messages, and even phone calls and keep records of it. I am doing a lot with this system and it has a lot more to offer at a very affordable price. EnagageBay is definitely a strategic breakthrough for my business.
Lucas Chacha
Posted on Jun 22, 2020
All-in-one Platform Also Pack Lots of Punch
Review Summary
Packed full with useful features that mean you don't need to use many other systems. A lot of things can be done: a custom sales process, the synchronisation the emails, pop-up forms & forms, live chat, chatflows, templates for emails and a lot more! The simple and clean dashboard and organized tabs/dropdown options makes it easy to navigate the CRM. Just enough to get the job done.
sandeep das gandham
, Digital Marketing Manager at Clorder
Posted on Jun 16, 2020
Great CRM tool for small and mid-size businesses
Review Summary
EngageBay is wonderful creation of marketing technology. It is highly recommended because of its all-in-one features. It's user-friendliness is one of the greatest advantages. Most of all, it offers free accessibility and notifies you for every action.
Andrew Wheeler
Posted on Apr 14, 2020
Best All In One CRM!
Review Summary
Being a Startup Business and after checking out multiple tools. My decision to go with EngageBay was apt! To begin with It allows you to collect data and share it within all your business areas (marketing, sales, CRM, etc.). Deals, Documents, Online Scheduling, Tasks etc.. makes it very simple to handle the sales side of things. Automations allow you to improve the performance of your funnel making it more customer engagement. Creating, Web Pop-ups, Landing Pages and Forms is very simple and intuitive. The drag and drop system allows you to create LP even if you are not familiar with coding. Powerful enough for the seasoned, easy enough for newbies in businesses and the support is best in class. Would highly recommend this materpeice!