Ease of texting and constant availability have made chatbots a preferred channel of communications on websites and mobile apps. Today, when people can access chatbots even on messaging apps and virtual assistants, the benefits and uses of chatbots have come to the mainstream.
Yet, the most astonishing aspect of the Chatbot is how outsized its power is when integrated with machine learning and natural language programming. Chatbots, powered by artificial intelligence, have scaled up its applications as well as user base.
These are chatbots that can understand a wide variety of questions, answer them the most efficiently, and perform tasks. From customer support to online shopping, the applications of chatbot technology are favorable with present-day consumers says our research based on a survey of 300+ people around the globe. This has been cited with stats and user experiences of the surveyed.
Though chatbots are getting progressively mature, would it be advisable for businesses to get one, to interact with clients? And if you want to, what are the user behaviors that should aid in chatbot design? Chatbot developers might often feel confounded between artificial intelligence on one hand, and the awe that machines probably won't treat your clients properly on the other. Our chatbot usage research focuses on preferred chatbot platforms, applications, benefits, user experience, as well as, don't to avoid user frustrations.
What's more? To have a better understanding, you can read exclusive commentary, as well as design guidelines, from Larry Kim - founder and CEO of MobileMonkey, the world's best Facebook Messenger marketing platform.
About The GoodFirms's Chatbot Usage Survey
GoodFirms surveyed 300+ people all around the world to study current chatbot usage.
Here is the full list of Research Partners, who helped us garner participants for this survey, and insights for the research.
The participants are chiefly males (73.33%). And the age distribution among them was: 17.14% of Generation Z (18-24), 70.48% of Millenials (25-39), and 12.38%.Gen X (40-59).
The respondents of the survey ranged across diverse socio-economic geographies such as the United States (31.43%), the United Kingdom (16.51%), Australia (11.11%), Canada (9.21%), India (7.94%), South Africa (4.13%), the United Arab Emirates (2.86%), Germany (2.54%), Singapore (2.54%), Ukraine (1.27%), and Others (10.48%)
The surveyed people were interviewed with questions regarding their brand communication preferences, where & how they have used chatbots, their chatbot user experiences & usage preferences, and perceived benefits & cons; while asked to agree or disagree on several statements.
Businesses, brands, and application developers can leverage this report to understand the common user habits and gain many insights from the used case experiences. How people use a chatbot would provide much-needed knowledge to bot developers so as to enhance the human–chatbot interaction experiences.
The Detailed Findings
Technology such as NLP, machine learning, and voice-search have powered the current chatbots. Thus, in a few past years, chatbots have quickly risen up from a fun chatting application to a personalized assistant.
94.29% of the participants have used chatbot of some kind.
Of these, 69.52% have used chatbots frequently, while 24.76% of them sometimes.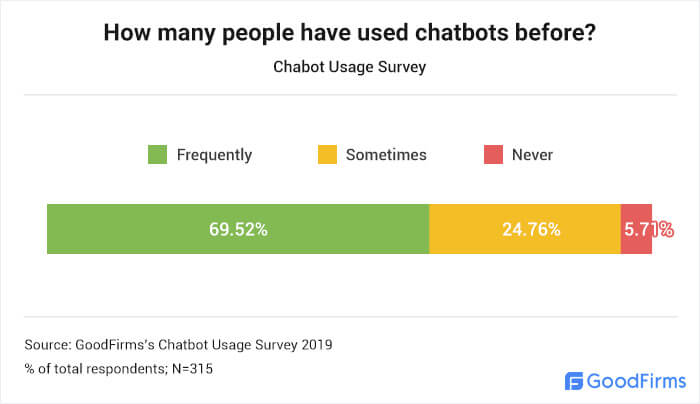 The current article identifies key factors driving the usage of the chatbot. The most common reported factor being productivity; chatbots help users to obtain assistance or information more efficiently within minutes. The survey article provides insights in terms of chatbot platforms, uses, benefits, and cons of chatbots, and they present a comprehensive vision about how and why people elect to interact with automated chatterbots.
Read the below comprehensive research with detailed chatbot stats and insights, derived from a recent Chatbot Usage Survey conducted by GoodFirms:
1. People Would Use a Chatbot, but Only If They Get the Right User Experience
Chatbots are one of the most popular channels for brand communication; though, not yet the preference over other traditional channels such as websites or emails. But, if the businesses manage to design a sound user experience, 86.67% of people would be interested.
Live chatting or texting (72.38%) is found to be the third most popular medium people prefer to communicate with a brand. With websites (80.95%), emails (76.19%), mobile apps (61.90%), and phone calls (52.38%) making up the 5 most popular platforms.
Also, people of all ages have shown a certain degree of preference for chatting. It's second most preferred among Generation Z, third-most among Millenials, while fifth-most among GenX.
However, people are not yet ready to use a chatbot over the website, or emails, to get information about products or services as indicated by the chatbot statistics.
When directly asked, if the participants would be interested in getting information from a bot rather than a website, most people were not sure (37.14%).
Many participants agreed (35.24%), but an equivalent number of participants even disagreed (27.62%) too. The only expectation being Generation Z, with 50% of them interested to get information over a chatbot rather than websites.
2. Younger Generation Prefers Chatbot on Mobiles
Chatbots can be designed for different platforms - desktops, mobiles, virtual-assistants, through websites, apps, and voice-technology.
Understandably, Gen Z and millennials are more enthusiastic about using chatbots than the older generations. But, even younger generations differ when it comes to chatbot platforms.
More Gen Z tends to the mobile-based uses of the chatbot.
In general, most people (83.81%) prefer chatbot for website.
But analyzing the chatbot usage preferences of people based on their age cohort, a high number of Generation Zers are using chatbots on messaging apps (83.33%) and consumer mobile apps (77.78%).
Notably, millennials prefer chatbot for websites (87.84%) and messaging apps (75.68%) to converse with a chatbot. On the other hand, chatbots on websites (100.00%) and mobile apps (61.54%) are highly popular among Generation Xers.
For example, Kristina Yelisichenko of Periodix, have used chatbots on different websites for online shopping, booking flight & train tickets, and check events in the city, but with mixed reviews. However, she does use a chatbot called PocketCoach daily, and the reason being - it's on her mobile.
"I started using it when it was on Facebook Messenger," responded Kristina, "but a few weeks ago, they launched a chatbot app for iOS and Android with additional features."
PocketCoach is a free chat application that helps to reduce anxiety through meditation, relaxation, and education on how to handle mental health disorders.
"The most significant advantages of the chatbot app are getting it everywhere, and having a short conversation on the go that allows me to feel better," says Kristina.
Smartphones are an absolute way to communicate nowadays. Thus, chatting on mobile apps comes so inherent.
3. Action-Based Chatbot Uses Are on the Rise
The use cases of chatbots are many - setting an alarm, quick answers, getting information, customer service, as well as, online shopping.
But with improved capability and functionality, younger generations are now using chatbots even for searching for a specific product, placing an order, booking a ticket, making reservations, making payments, or sending money.
In the last 12 months, 63.64% of the surveyed used a chatbot to buy a product online.
The participants were asked to mention what have they used chatbots in the last 12 months. As the list is long, here are the chatbot stats for top 10 used cases:
Action-based uses such as info about a specific product (71.72%), buying an item (63.64%), and bill payment (50.51%) were among the top 5.
Overall, people are now trusting more with chatbots for simple actions, in their otherwise complex routines.
For example, Nanette Miner of The Training Doctor was recently looking for a specific bra style on the website of Victoria's Secret but was not able to find one. "I didn't feel like searching for more on their site, so I went immediately to chat for assistance."
Many people find chatbot convenient to use for searching products - it saves them time and effort.
As did Nanette, "It took the bot about some minutes to research my need and it ended up telling me - they don't make it anymore. So, I saved myself time, while again, I continued to do other work!"
People are also performing other tasks such as transferring money (35.35%), making reservations (34.34%), and subscribing to a mailing list (15.15%) while on chatbots.
4. Chatbot Usage Experiences Are Generally Worthwhile
9 out of 10 surveyed have used chatbots on different platforms and for a variety of reasons. Their experiences give access to insights about chatbot functionality, a rate of success, and the framework for further improvement.
While many participants have reported their user accounts, the survey even asked them to rate their user experience and mention the common errors they have come across.
People rated 3.5 out of 5 to their chatbot user experience.
More than half (52.52%) deemed satisfaction (4 or 5 ratings) with their past chatbot usage. While by age cohorts, Generation Z rated their experience 3.8, followed by Millenials (3.5) and Gen X (3.2).
For example - Aleksandar Pesic, of Market Republic, was trying to open up a "dispute" on the website of AliExpress as one of his orders didn't arrive on time. When contacting the seller didn't help him either, he was clueless about where to start.
"Then I saw the chatbot and it had a question something like "Is there an issue with the product." said Aleksandar, "I remember clicking and it provided further options and it gave me the option to ask for a refund, so I did. Soon, the message said that they will process my request but that I should pay attention to the protection period for the next time."
So instead of having to contact support and explain the whole situation, chatbot saved him a ton of time and energy.
Yet, their satisfaction level did not convey any leniency while listing the most common errors while using the chatbots.
Misunderstanding a query (62.63%) and reverting unhelpful answers (43.43%) were two substantial errors people regularly get by.
For example - Vik Bogdanov, of 8allocate, was recently using a weather chatbot app to find out the forecast in Cyprus. Here's his dialogue with the chatbot:
Vik: What's the weather like in Ayia Napa next weekend?

Bot: Are you on a boat? I couldn't find any results for that location.

Vik: Tell me a weather forecast in Ayia Napa, Cyprus next weekend.

Bot: Sorry, still can't understand your location.
"The app did show weather forecast in Ayia Napa," concluded Vik, "but the bot wasn't trained to understand this particular location."
5. More People Are Now Ready for Online Shopping Via Chatbots
Chatbots had gained a wide impression of being worthy of customer relations only, mostly for simple interactions. But with the present market and developments, people have appreciated its uses and benefits - turning towards chatbot for moderate interactions, as well as, advanced applications.
There has been an outstanding growth in chatbot utility from the e-commerce perceptive. Chatbot statistics from the survey reveal that 59.05% of people are interested in buying basic, cheaper products from a brand over a chatbot.
For expensive products, as many as 19.05% are interested. A person can open a chatbot, check a specific item, get the details, place an order, and pay for it on a single platform. All this while having an interactive experience with the application.
"We're seeing more retailers finding success with text message blasting offers, in small (for example, wine clubs) and big-ticket items (high-end jewelry) alike." said Larry Kim, "Another thing to remember is that millennials think receiving chat or text-based business reminders, updates, product offers, or coupons are helpful. When you receive a product promo in text, the next jump off is buying."
When asked what kind of chatbot interactions people would prefer, 88.57% of the participants pick simple interactions. Also, a stunning 54.29% of them even prefer moderate interactions.
Simple interactions include scripted bots that are used for easy tasks such as setting an alarm or filling a form. Moderate interactions are on contextual bots for advanced, but isolated, applications. Complex interactions include an AI chatbot that acts as a comprehensive, one-platform-for-all personal assistant.
A lot has to be improved in the chatbot technology and interface if masses have to adopt chatbot for complicated tasks. This is reflected in the survey as 68.57% of people don't prefer chatbot for complex interactions yet.
6. Benefits of Chatbots - 24/7 Services & Instant Response Pulls Most People
A chatbot is much like a salesperson in the real store, but also available round the clock, quick, and more efficient. Customers across the time zones gauge these as their foremost advantages.
At least 8 out of 10 people deemed that they turn towards a chatbot because it is available at any time of the day, with answers almost instantaneously.
The participants were asked what do they consider as their benefits of using a chatbot, and the stats are as below:
More brands are venturing into globalization, while on the other hand, on-demand services are at their peak. Yet, with chatbots, a brand can be available for its customers whenever they need it. Customers across the time zones gauge these as their foremost advantages, with 89.52% of them considered so.
Also, getting instant responses/services has a lion's share (81.90%) when it comes to adding value to chatbot usage. In a separate query, nearly everyone pointed out that they expect a queuing time of 10 or fewer minutes.
A considerable number of participants use a chatbot because it's mobile-friendly (70.48%) and easy to use (50.48%).
As discussed earlier, people have a natural tendency towards smartphones. And with the option of chatting available, people often prefer it over other channels.
While there are other benefits too, but appealed to very few people; such as specific answers (35.24%), good customer experience (35.24%), data accuracy (25.71%), and efficient complaint resolution (20.95%).
7. Cons of Chatbots - Random Pop-Ups & Unrelated Redirections Irritate People the Most
In their attempt to be proactive, businesses often push their chatbot pop-ups on their website visitors. But usually, people find it inconvenient - particularly, when they haven't asked for it yet, or when the interface is covering the content. According to the survey, 60.95% of the people deemed this as the major con.
3 out of 5 people don't want an unasked pop-up on the websites.
Unrelated re-directions to FAQs or blogs (56.19%) and unavailability of enough data (50.48%) are the concerns for almost half of the respondents. Eventually, people also get annoyed when they don't get to speak to a real person (46.67%).
In a separate query, people voiced that they do expect a chatbot conversation subsequently transferred to a human.
"Recently, I needed to know when to drop off my kids at an after-school program. The website didn't list a start date: Wednesdays at 5—but which Wednesday does it start?" shared TJ Kelly of Mxt Media, "I needed an answer immediately, and the chatbox on their Facebook page seemed to be the only way to reach anyone quickly."
The chat prompted a scripted yes/no question asking for if he was already a customer? Unfortunately, when he replied yes - the bot sent over a link to an FAQ page which he had read twice already.
"That was the end of the sequence," said TJ, "Utterly useless for my situation."
Here are several don'ts as suggested by Larry Kim for businesses:
Don't allow open-ended text whenever possible; always give users options to pick from. This will minimize the frustration of a bot not having a programmed response.
Don't assume you know what someone is looking for. The beauty of the chatbot design is that you can ask a person or audience what they are looking for and then personalize the recommendations or results from that.
Don't forget to notify humans when someone is looking for a response that they cannot get help from a bot with. Use hot lead alerts and notification triggers.
8. Brand Impression of Using a Chatbot Is Mostly Positive
The adoption of technology in businesses affects their brand impression. Chatbot uses being at the helm of customer relations, people would judge a company based on if they offer a chatbot or any other form of conversation.
To analyze how a person sees a brand that uses a chatbot, we decided on several indicators were decided, which are as follow:
Tech-Savvy: A company that is keeping pace with the latest trends and technology.
Customer-oriented: A brand that is genuinely considerate and present when needed.
Proactive: A company that is excited, as well as, enterprising when it comes to offering solutions.
Cheap: The company is atomizing customer relations to reduce costs, at the loss of quality communications.
Show-off: A brand that is boasting about its products, services, or even its chatbot capabilities.
Intrusive: People think that the company is pushy when it offers chatbot every now and then.
The participants were asked to rate a company/brand out of 5 stars on these indicators. And here are the chatbot statistics:
Approvingly, people take a company's usage of a chatbot on a positive note. A majority of people rated high (more than 3) stars to a company for being tech-savvy (64.76%), customer-oriented (61.90%), and proactive (60.95%).
While rating low (less than 3) stars on negative brand equity, most people don't think a brand is cheap (64.76%), show-off (63.81%), or intrusive (40.95%).
9. AI Chatbots Are Okay, but Chatbots Pretending to Be Humans Are Not
Earlier chatbot had surely given a new dimension to self-service. But it really added the much-needed user value only after getting powered by machine learning.
Nearly 3 out of 4 people are comfortable chatting with an AI Bot.
Artificial intelligence is certainly improving the chatbot experience; not only with developed utility but also with natural language.
This has been evidently reflected, as people across the generations are equally welcoming. While the younger generations - Gen Z (77.78%) & Millennials (78.38%) - are the obvious supporters, surprisingly, even Generation Xers (69.23%) are keen.
Yet, if marketers jump into pushing a chatbot (perfected with AI) as an actual human - most people won't just accept it.
For instance, 51.43% of people won't like it if the chatbots pretend to be human.
For them, it is okay if the chatbot is fashioned to understand and converse like a person - only if they are made aware of it.
Though, a substantial 40.00% of the people are even okay with the personified chatbots too.
Here's some advice for businesses from Larry Kim:
Instead of open-ended 'ask-me-anything' type bots, businesses should design bots that provide users a menu of options like a phone tree.
In order to design the chatbot, it's important to know your audience and what they could possibly need from you.
Then, create that tree of options, keeping it limited and bound to what you can helpfully offer with a bot.
You can use trigger words to automate certain responses from the bot, particularly in the case of frequently asked questions.
Set up triggers to alert your live agents when it's time for the bot to transfer the conversation over. You can do this with a live chat inbox, sending an email whenever a user needs a liver operator.
Conclusion
Texting has remained popular since its inception, due to its natural appeal, easy to use quality and wide availability. With this survey research, it has been clear that people of all ages are enthusiastic about the newfound uses and benefits of chatbots. Thus, all the efforts are to be directed towards making a user interface more comprehensible, and the user experience more likable.
Adopting the best practices, focusing on user habits and pain-points, businesses should get on the wave while it is still growing. On the other hand, they have the advantage of being branded as proactive and technologically savvy.
Technology has been the foundation rock, as well as, the binding force of a chatbot. With AI algorithms, chatbots can learn fitting answers for specific questions, increasing their capability and utility as a go-to-assistant. While the applications of the technology are many, businesses can find the top artificial intelligence companies for reliable machine learning as well as data learning projects.