Since the advent of the internet, the tech industry was already moving away from local to server-based storage. But cloud storage started gaining widespread recognition and adoption, only after the personal storage and file-sharing services were introduced.
The drive behind this adoption was - Why waste extra space on your computer or phone when you can put away your media and documents in an online drive and share it across devices? On top of that, is the convenience of drag-and-drop, easy sharing, and sync across cloud storage apps and websites.
And soon, the market flooded with hundreds of online file-sharing services with cloud content management for business-personal purposes.
Now, the usage of personal cloud storage is higher than ever before - both in the workplace as well as in personal usage. Thanks to popular services such as Google Drive and Dropbox, people are using these online storage services actively and vividly. While the concerns over privacy and data security persist. But yet, GoodFirms survey of 600+ cloud users found that people are increasingly accepting cloud-backed online computing as the new normal.
About The Survey
GoodFirms surveyed 600+ people all around the world to study the current usage of cloud storage.
Here is the full list of Research Partners, who helped us garner participants for this survey, and insights for the research.
Gender distribution among the participants were males (68.52%), females (30.09%), and others (1.39%). And the age distribution among them was: 6.94% of Generation Z (18-24), 69.44% of Millenials (25-39), 22.22% of Gen X (40-59), and 0.93% of Baby Boomers (60+).
The survey was conducted among people from various socio-economic geographies that included the United States (31.94%), Canada (10.19%), the United Kingdom (8.80%), India (7.87%), Australia (6.48%), Ukraine (6.02%), Belarus (5.56%), Uruguay (5.09%), Romania (4.63%), Singapore (3.70%), and Others (9.72%).
The surveyed people were interviewed with questions regarding the cloud services they use, how they store, as well as manage, personal and office data, what they use cloud storage for, which cloud services they trust and why, and their recent experiences with cloud storages.
The Detailed Findings
Vincent Tobiaz, CEO of SEO Smooth, feels cloud services have reached all ends of his computing experience.
He says, "Between using Google Drive for work & personal (Google Photos as another instance) and Dropbox for clients who use it, I realized it goes deeper than that. Even scripts that run certain Google Ads functions such as scheduling are stored on Google Drive, where they have permission to connect to. First and foremost, it is the standard for collaboration with colleagues, to be able to work live and in sync together on a document."
While on the personal front, Vincent uses iCloud and has everything on his iPhone and Macbook synced to it as well. Not just him, most of the people think digital drives have changed their data habits. And more than half of the surveyed people use at least three different cloud services.
92.13% of people think cloud storage has influenced them, and 54.62% of them use at least 3 different cloud services now.
All major service-providers have developed adequate file management, pricing models, and sync systems over a period. Yet, concerns linger over these services for lacking policies and technology for privacy and data protection.
With stats and insights on the above topics, the survey report presents a general idea of how people use cloud storage. Read the comprehensive article to get detailed stats and insights into GoodFirms's Usage of Personal Cloud Storage Survey:
Google & Dropbox Among Most Used Cloud Storage Services
At their core, cloud storage all does the same thing: copy files in your selected folder or folders to an online server. And yet, there are dozens of services available today, and each has its distinctive features.
But, with at least two in every three users, Google Drive and Dropbox have out-raced most.
Too often, people judge these services on three factors - File Management, Pricing, and Security.
"Google Drive and Dropbox are the best out of the lot," said Saurabh Sharma, CTO of Mobikasa, "to store as well as use the files on the cloud.
Thanks to these cloud storage and file syncing services, people can create a file on their computer, access it on the phone. Or, in minutes, they can share a 20 GB folder of photos and videos with their colleagues who are halfway around the world.
Saurabh adds, "Editors provided by both the services are top-notch and easy file management as compared to others. Moreover, as these are used with the email solutions, these are preferred mediums to share within and outside an organization."
Thus, most people access their storage drives from both - website interface and mobile app, though cloud app users are slightly higher.
The general trend is not consistent with the different ages though. While all the Gen Z mentioned that they use mobile apps to access their cloud storage, a mere 46.67% of them use a website. On the other hand, Gen X uses more websites (85.42%) than mobile apps (66.67%) to access their cloud.
Users' Data Storage and Management Habits Are Changing
Over the years, cloud storage has been adopted widely - both for personal and professional usage. And since then, it has greatly influenced how people store and manage their data.
A majority of people think so, who now use cloud services, and data storage in general, more frequently than ever before.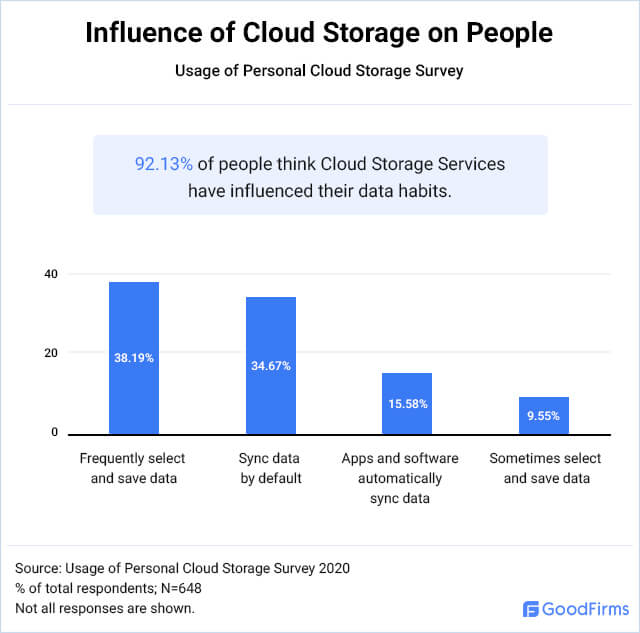 People of all genders and ages think almost consistently that their data habits have changed. And people use it for a wide range of purposes from personal to professional, from entertainment to education, for storage to sharing.
"Nowadays, I can't literally imagine my workplace without using any cloud storage," says Yuliia, Marketing Manager at IT development firm Fulcrum, "We are a team of 30 people, and we need to store lots of information in the cloud– so that anyone on the team could access it without any issues. We love storing educational information in the cloud. We even have a tradition – whenever someone uses a lecture or reads a fantastic book, we definitely put in information into the cloud. This way, anyone on the team can read it."
A majority of people either frequently select data and upload to cloud (38.19%) or have set to save their data on cloud by default (34.67%).
Interestingly, more of Gen Z (64.29%) and Gen X (41.30%) set their cloud storages to take a backup of all their devices while most Millenials (42.34%) handpick data to be kept in storage.
Personal Cloud Storage: Primary Storage or Just Backup?
More and more people are turning to the cloud for data storage and management. For many users, it's about the ease of accessing and managing data daily. While for others, online storage provides a few extra GBs to store away necessary but seldom used documents.
In any case, people have increasingly consigned to the cloud as their primary data storage.
And not just for storage and management, most people appreciate the cloud for file viewing, quick access, easy search, and backups too.
Sure - Cassette Tapes, Floppies, CDs, Flash Drives, Hard Disks, SSDs - were widely used, and some of them still used for storing and sharing files. But none gives the convenience that the current lifestyle of people generally requires. The ease of drag-and-drop to transfer data and no requirements of physical portability to share files makes it a compelling choice as a primary data storage.
And the trend has been typically observed among the youngest Generation Z, among which 86.67% think they primarily use online drives. In comparison, this percentage of people is much lower for millennials (66.00%) and Gen X (60.42%).
Where Do People Use Personal Cloud Storage?
Since the early 2010s, businesses are switching to operations online and employees to online storage. While on the consumer front, the adoption has been slow - majorly due to affordability issues.
The survey showed that 92.59% of the people are using the cloud for storing office data and 72.69% of them as a medium for sharing files.
Large, multi-office firms are subject to restrictive document retention regulations that create a major pain point. Transitioning to a paperless, cloud-based storage architecture can be a real game-changer and productivity booster. Collaboration, security, and regulatory compliance can all benefit dramatically.
Tsion Chudnovsky, the Managing Attorney at Chudnovsky Law, recalls their cloud transition period. "It was hard to get buy-in to transition to a cloud-based storage system," she said, "for our law firm because lawyers are traditionalists. But once we got over the buy-in and implementation hurdles, the productivity of our employees boosted dramatically. For lawyers, time is money. We estimate transitioning to cloud-based storage boosted firm profitability by around 30%."
Also, the cloud gives computing for some 3rd party apps or even stream music. These include contact synchronization, email services, mobile backup, and location awareness. But, only 33.80% of people use these services on the cloud.
While cloud for professional usage has been consistent with all ages, cloud for personal usage peaked among Gen Z (100.00%) and consistently declined across older generations - Millennials (73.33%) and Gen X (58.33%). The same trend is seen for cloud usage as a platform for computing across ages.
On Individual Level, People Invest Less Money on Cloud Services
Most cloud services offer a freemium subscription that generally comes with some limitations: time-limited, feature-limited, or the most popular, space-limited. On average, popular cloud services give 2-15 GB of free storage in their free trial.
Most people (61.57%) use the free storage provided in the trial plan. Yet, more than half of the people (54.63%) purchase more space on their plan.
Interestingly, a substantial fraction of people (43.52%) uses a certain amount of cloud storage that is provided by some organizations. As Akshay Yaravalli, a marketing professional with Devathon, points out, "Buying a plan is worth it for company use, but buying it for personal use is generally a bit expensive for a normal person. Instead, they plan to buy an external drive to carry data, and it's a secure and one-time expense." For Gen Z, this might be college-provided, while for the older generation, this might be office-provided.
Millennials and Gen X understands the additional value the paid version brings - more space, file-version history, more security, or more features. On top of that, most of them store data for a long time. Which largely compiles them to invest for storage services on a personal level.
On the other hand, Gen Z is always on the go and hardly ever stores data for a long time. Relying on the small chunks of data that comes with the trial version and/or provided by an organization works for them.
This trend is also reflected among a small group of people who pay for unlimited space on cloud storage.
Top Concerns for Using Cloud as Personal Data Storage
Experts often say there is no such possibility of completely safe cloud storage, at least, not yet. And despite assurance by service providers, again and again, privacy and data security are still the most prominent concern people feel regarding using cloud storage.
But there are a bunch of other concerns, expressed by at least a third of the surveyed people:
"Like for most cloud users, I always emphasize on privacy and data security." voiced Catalin Adam, digital strategist with Tuya Digital, "With so many social media channels and with entire lives exposed on Facebook, one might leave alone one's concerns regarding privacy and personal data security. When it comes to business data, though, this is another story, and the concerns are well-founded."
One of the other biggest complaints from users (54.63%) is in case of sudden data loss; there is no way to get their data back. Most cloud storage services don't offer backup functionality. In the absence of which, most users lack a safety net.
Other substantial concerns, users expressed, include the functionality of the cloud storage such as poor sync across devices (40.28%), poor uploading/downloading speed (37.50%), and poor file management (33.33%).
Detailed analysis of the survey data regarding the concerns reinforces earlier usage behavior of certain ages:
The cost of a subscription is a major concern for Gen Z, which often drives them towards free storage.
Millennials, who access the cloud from multiple devices, have concerns of poor sync of data across devices.
Do People Read T&Cs for Cloud Services?
For most internet services, people hardly even glance at legal terms and conditions before tapping on "I agree". Consumers often find the language of agreements complex and redundant.
When it comes to cloud storage services, a substantial number (46.30%) shows to be aware of T&Cs.
But, the majority of people were found to consent to services conditions without even reading them. Among younger generations, ages 18 - 24, the rate is higher, with 66.67% agreeing to terms before reading.
Consumers are readily accepting that most companies might sell their names and email to a third party or show personalized advertisements. But with cloud storage services brings personal data at stake, and thus many people do practice caution.
14.58% of Gen X are aware of most T&Cs; the highest found among any age while only 8.67% of Millenials and none of the Gen Z reads T&Cs of this level.
Interestingly, people concerned about their privacy & data security are the most who read the terms and conditions while people concerned about data loss are the least to understand those terms and conditions.
How Safe Is Cloud Storage?
As discussed earlier, most cloud users are concerned about their data security. While the bulk of them still use the services, suggesting the trust people have in these services providers.
More than 90% of the people trust at least one cloud service for storage and file-sharing purposes, the only exception being 3rd party app access.
Cloud computing has generated quite a buzz, supporting the development of thousands of apps and internet services. However, there are still consumers who don't trust cloud computing, even for granting automated backup.
Many apps give the option to automatically back up photos, videos, documents, chats to their personal drive. But often, these backup copies are not secured by the end-to-end encryption. A hacker could access this personal data if they break into the cloud storage account.
This is the main reason people rarely trust cloud computing and give any app direct access to their personal cloud.
Which Cloud Storage Is Most Secure?
More and more people have come to use a diverse range of cloud services each for a different purpose - storage or file-sharing, personal or business. Thus, people have variable trust among different brands for different purposes. In turn, this trust is often fulfilled by the services and security guaranteed by the cloud provider.
Currently, Google Drive seems to be winning the race with trust from every nine out of ten users. And Dropbox is ranked second with very seven out of ten users trusting the service.
It is noteworthy to mention that, more often than not, users commit a mistake that gives up important data that can lead to problems. And thus, it is also the cloud users' responsibility to do their part and keep their cloud drive safe.
As does Yoann Bierling - a digital nomad and an international business consultant. Running a personal home office on the Internet, he mentions that his laptop is the main storage area, and the cloud offers a relatively safe backup solution.
"I am using the OneDrive 1TB storage that comes with the Office365 subscription to store all my professional data, especially pictures and data files, so they don't use space on my laptop," Yoann told us. He added, "There is no choice but to trust it. However, I have my computer secured with a VPN connection to make sure that the data encryption is as high as it can. It allows me to automatically back up files that I decide, and I have a specific folder for sharing with specific people that I personally know. To share with strangers, I use a separate Google Drive account, to make sure that both aren't connected - on that other cloud, I have nothing sensitive / of any importance."
Interestingly, the third set of people is divided between Apple iCloud for personal cloud usage and Microsoft OneDrive for any other use.
Conclusion
In the recent past, storage-as-a-service has caught on. Online drives and cloud storage apps have not only changed people's data storage habits but also influenced their mobile usage heavily. Whether it is for business use or personal, cloud technology can be molded for any application and provide services for all.
Now, data storage has become highly superior, cheaply available, widely used, and yet more at risk. These risks have pressed cloud storage providers with more compliance requirements and users with adhered security precautions.
With private cloud storage for business, you can build a common computing platform among and for your employees. And in many cases, the businesses have bought, managed, and scaled storage, but it isn't working for them anymore. If you need better services, you can check out GoodFirms curated list of top private cloud service providers that can design a solution - empowering your business not only to create the required infrastructure but also to manage your private clouds.
On the other hand, increased data-related security threats have powered the top storage trends of the year. Both cloud computing and cybersecurity providers are now quickly developing a branch of customary cloud security. If you are worried about the security of your cloud infrastructure and data, let GoodFirms aid you with a list of best cloud security providers, which enables data protection from theft, leakage, or data-loss.