Multiple workplace values and work benefits are pivotal for achieving employee engagement and motivation, which is among the top priorities for any firm. Indeed, individual productivity is directly related to their job satisfaction. GoodFirms surveyed 750+ professionals worldwide to determine what are the driving intents of the workforce and found that people are now profoundly considering non-wage compensations such as interest-bound work, technology & innovations, company ethics & culture, etc.
Every successful business leader would agree that their most valuable assets are its employees. While recruiting departments used to flock off talents with great pay and some benefit packages, contemporary employees are looking for other, more sweeping perks while considering their jobs.
Yet, the strenuous job of enhancing communication and engagement lies ahead. Here, managers or bosses play a focal role, aligning business goals with each individual's work and dogma. After all, people who get regular cooperation from their managers at the workplace are more likely to stay loyal to the company and consistently add value to the growth.
Particularly, in an age of assorted work environments, it is important for leaders, managers, and HR professionals to learn distinct, vivid styles to enrich their employees. Our research digs out common attributes, preferences, and expectations of the global workforce for the HR specialists to study and align their policies.
About The Survey
GoodFirms surveyed 750+ full time-employees from small and medium businesses around the globe in a search to discover the state of employees.
Check out the full list of Research Partners, whose employees contributed to this study with their views and experiences.
The surveyed people were asked far-reaching questions regarding the most important workplace values, top employee benefits, fair compensation for a lower salary, job satisfaction, company culture, bullying at the workplace, and major reasons why employees quit.
The participants are from the United States (44.36%), the United Kingdom (20.47%), Australia (8.66%), India (3.41%), Canada (2.10%), Poland (2.10%), Singapore (2.10%), Belarus (1.84%), Germany (1.57%), Ukraine (1.31%), and Others (12.07%).
The participants were mostly males (65.88%), followed by females (33.60%) and others (0.52%). While participants along the generation cohorts were: Generation Z (18.90%), Millennials (57.48%), Generation X (12.6%), and Baby Boomers (11.02%).
Out of all the participants, 21.52% mentioned that they have managerial posts, while other 78.48% do not.
93.44% of the participants work at small and medium businesses, as defined by the number of employees: 2-9 (13.39%), 10-49 (52.23%), and 50-249 (27.82%). While 2.36% identified themselves as freelancers, and 4.20% others worked at larger companies (250+ employees).
The stats and insights emerged from the survey are aimed to help small businesses, in-house HR teams, as well as, HR outsourcing services to learn the present state of employees and what they want out of their jobs.
The Detailed Findings
Actions for employee recognition, awards, motivation, and support are formulated to enhance the workplace experience of each employee. Helping them see the weight of their contributions to the work, increases their productivity, and punctuality.
This is promptly done if businesses know what exactly their workers need for their personal growth and expect from the current work-space. To aid the HR management, the present article exhibits current stats and traits which leads to employee engagement and satisfaction.
Read the following comprehensive research, surveyed and articulated by GoodFirms, to find detailed insights and stats:
A Majority of Workers are Actually Satisfied With Their Jobs
Employee dissatisfaction is a significant concern for any business. So the participants were asked to agree or disagree with the statement, "I am satisfied with my current job", to diagnose the number of people who are happy, or not, with their jobs. The stats are as below:
More than a half (56.68%) of the participants are satisfied with their current jobs, including 24.78% of those who are super-satisfied and 31.90% who are somewhat satisfied.
In contrast to several popular studies, our ground survey showed an upward climb in job satisfaction among employees.
One of the reasons that the largest percentage expressed satisfaction was work awareness and motivation as well as people at work.
Also, another peculiarity was seen - most employees are sure if they are happy with their work or not, as just a 13.17% remained neutral to the statement.
The trend is reasonably consistent over different generations from the Gen Y'ers to the Millennials to the Gen X'ers and to the Baby Boomers.
Most companies endeavor for employee satisfaction, but not all accomplish this goal. Thus, it is more so important for human resources professionals to know more about the stats and factors regarding employee dissatisfaction, and how they can enhance their workforce's time working for the company. The state can be improved by increasing workplace engagement.
Most People Are Informed of Their Work, But a Fewer Feel Motivated At Workplace
Awareness about work and motivation at the office plays a significant role in job satisfaction for every individual.
Awareness of how their individual work is fitted into the jigsaw of their project is critical to their being cooperative and considerate within the team. While motivation at the workplace deals more and more about workplace values, company culture, and ethics.
So, to study further, we asked the participants to agree or disagree with the following statements: 1) I have a clear idea of how my work is aligned with the company's goals. 2) I feel motivated in the workplace.
The majority of people have a clear idea about how their work is aligned to their company's goals. When asked to agree or disagree with they're being aware of their work and it's importance, the responses are figured below:
A whopping 61.52% of the participants agreed to the statement, implying the simple reality that most of the people know what they are doing at their workplace, and how important it is to their on-going projects. Particularly a well-nigh third (31.60%) of the participants even strongly feel it about their work.
On the other hand, only 19.95% feel that they are not well-aware of their current job-work. While 18.53% remained neutral to say anything.
Having said that, a fewer but considerable chunk of participants feel motivated at their workplace. When the participants were asked to agree or disagree if they felt motivated, the majority of them agreed. Here are the stats:
Only 15.12% were agreeing that they felt super-motivated to work, implying that they could go to limits to contribute to their on-going projects. But, a mountainous 37.24% of participants are motivated, if not super-motivated, who are willing to do their jobs efficiently.
One in every two employees feels motivated at the workplace.
On the contrary, 18.62% employed voted no-confidence for feeling motivated at the office, with a petty 3.52% strongly disagreeing with the statement.
But also, a substantial 29.02% of people remained neutral, signifying that they were not sure if they were motivated enough.
This reflects the level of engagement in the workplace, with a majority clearly feeling particularly enthusiastic about what they are doing.
More Employees Consider Diverse Workplace Values Than Just a Good Salary
For a majority of the employees (92.96%), a good salary / fair pay still remains an important intent to work for a company.
Other workplace attributes follow it closely, with growth opportunities, work-life balance, and friendly boss/colleagues being on the list of at least 9 out of every 10 surveyed people.
However, a more detailed study of the importance and preferences of several workplace values gives a different picture.
Every 4 out of 5 job-seeker consider an optimum blend of workplace values.
The survey asked employees, of all generations, to rate the importance of 9 job qualities as either "very important," "somewhat important," "it's okay," "not that important", or "not important at all". The ratings are as graphed below:
Clearly, a fair payroll has been important to almost everyone, yet only 61.20% view it as extremely important, while for an ample 31.76% of employees it is somewhat important. Also, small yet considerable even deem it to be okay (5.99%), or not that important (1.05%). Though none of the employees consider it not important at all.
Top 5 job values that are considered very important by the majority of the employees are growth opportunities (73.62%), work aligned with interests (71.40%), fair treatment at the workplace (70.87%), work-life balance (70.60%), and friendly boss/colleagues (69.53%).
Top 5 workplace values that are rated somewhat important by a majority of the workforce are good salary (31.76%), jolly work environment (31.23%), job security (25.46%), working in an innovative company (24.93%), and work-life balance (19.82%).
Top 5 workplace qualities that were okayed according to a majority of ratings are jolly work environment (13.39%), working in an innovative company (9.45%), fair treatment at the workplace (8.77%), job security (8.66%), and work-life balance (8.06%).
While only a minority (not more than 5%) of people showed no importance to any workplace value.
Gen Z and Millennial Bulks Are Driven by Characteristically Different Workplace Values
The ranking of values according to the overall importance given by employees of each generation, is almost consistent with the aggregate trends. However, the job attributes that matter the most, differ in ratings and rankings by cohorts.
The desire for a job where individuals can grow with their profiles as well as learn new skills is stronger among all employees, no matter which generation they are from. The percentage rating this workplace value as very important is highest among all generations with 84.50% among Gen Z, 75.93% among Millenials, while 60.00% among Gen X.
Generations differ by workplace values, which is inherent to their ages and lifestyles.
For example, not only Gen Z (80.56%) values interest-bound work heavily than Millenials (47.46%) and Baby Boomers (40%), but it ranks third over the cohort's most important workplace value charts.
This is critical as younger employees, most of them at the start of their career, seek job profiles that align with their hobbies, passions, and especially, the entrepreneurial drive in them.
Apart from including fair treat at the workplace (81.33%) and work-life balance (75.00%) to their top 5 very important job attributions, a majority of Gen Z even prefer working at an innovative company (76.39%). This again shows their intrinsic inclination toward technology and creativity.
While Millennials rank work-life balance (75.25%), fair treatment at the workplace (74.58%), friendly boss/colleagues (64.75%), and job security (64.07%).
Are Employees Ready to Trade-Off 10% Less Salary For Job Benefits?
There's a lot to consider while assessing a job offer, and to overlook the vital role that salary-alternate benefits may play in total compensation is a blunder.
Also, it is easy to hail one or two values if employees don't have a price to pay. Thus, the participants were asked whether they would trade a 10% lower salary for any of the listed reasons, or any other, with options a) Yes, this is important b) Can consider c) No, I want a 10% higher salary. The reported answers are given below: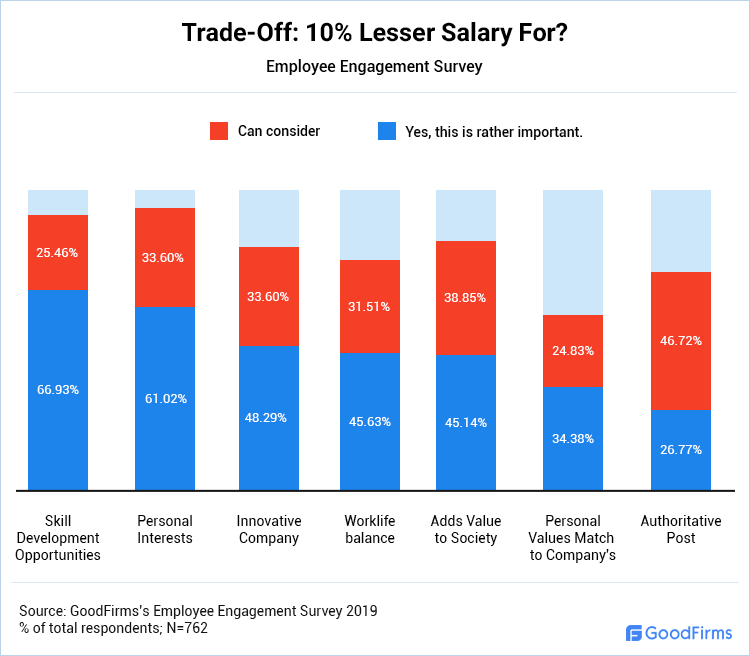 With choices from 66.93% of the surveyed, people deem skill development opportunities important to careers more than their salaries. Other 25.46% can consider for the same, making a total tally of 92.39% employees that are willing to take a job of lesser salary for this non-wage benefit.
Similarly, a majority of 61.02% employees choose a job profile that is aligned to their personal interests over an extra ten cents of salary. Including 33.60% more people who might consider the offer, as high as 94.62% of the employees set their intent for a job in lack of fair compensation.
Also, 48.29% of the surveyed consider it important to work in an innovative company, even if the pay is less than what they might deserve. Another 33.60% said they can consider the job at a workplace that values creativity and innovation, which makes it a total of 81.89% of the employees.
Further, 45.63% of the employees acknowledged that work-life balance is rather important to them. While 31.51% of them can consider depending on their personal commitments, hence an overall of 77.14% of participants choose it.
For 45.14% of the participating employees, working in a company that adds value to society is rather important. Additionally, 38.85% can consider for the same, making it to a grand total of 83.99% that might settle for a lesser salary. This hints that companies that commit to benefiting society are popular among employees, even more than those who are engrossed in innovations or are offering work-life balance.
Though 34.38% of the people feel it important to have personal values matching those of the company's, only 24.83% of others would consider it. With a gross of 59.21% workers, it is the lowest ranking choice people made.
On the other hand, only 26.77% of the surveyed deemed being on an authoritative post as rather important. But among the offers that can be considered, being on a higher position was deemed by the highest bulk (46.72%) of voters.
Most Expected Perks and Benefits from an Employer
In current job-markets, salaries have become just an outset. If employers want to keep their workforce satisfied and committed, they need to weigh on company benefits and perks.
89.05% of people expected for at least 3 major job perks from an employer.
Bonuses, when the company is making profits, or an annual raise in wages binds employers with greater vitality like none other, as a majority of 81.10% employees deemed as their most expected company perk.
Similarly, working 5 days a week is the most essential non-wage benefit for 75.33% of the participants, as people regard it fundamental to their work-life balance, and to improve their productivity.
Flexible work-timings, another benefit that enhances their work-life balance, is expected by 74.54% of the surveyed employees.
Following the birth or adoption of a child, employees (irrespective of gender) need time to purvey their parental duties, which is why parental leaves are expected by 72.97% of them.
Surprisingly, while 78.91% of females feel the need for maternity leaves, 70.52% of the males feel the same for adequate paternity leaves.
Almost 69.82% of the employees surveyed expect some paid days off, whether it's for holidays, sickness or mourning.
While, 62.47% of the surveyed expect some kind of healthcare insurance that typically includes medical, dental, eye care or primary care coverage for employees and their families.
Work travels or team outings are expected by as many as 59.06% of the surveyed employees as their preferred work benefit.
In most of the countries, certain types of employee benefits are decreed by law related to wages, medical matters, and leaves, because of their deep-rooted impact on employees' socio-economic welfare. Yet, the scope of these privileges rests on the companies.
Most People Think That Their Opinions Are Taken Well by Colleagues Than Boss
Every employee comes with their personal set of beliefs and ideas at the workplace, which is important not just for building trust and improve communication efficiencies, but practically, a range of different opinions are vital to better outcomes of a project.
The participating workforce was asked to agree or disagree over the following statements: 1) My boss takes my opinions well. 2) My colleagues take my opinions well. The stats are as follows:
Only 11.95% of them strongly agreed to it. Nonetheless, a little shy than half (48.98%) of the surveyed agreed overall that their opinions are taken adequately by the superiors.
Almost a third (31.57%) of the participants disagree that their bosses take their opinions well at the workplace. Also, as many as 19.45% of employees choose to remain neutral about whether the managers consider their opinions at the workplace.
Too many leaders are preoccupied with their titles than actually leading their teams. They do want recognition as a boss, but their team wanders what is it they actually do? This is alarming, as employers who underestimate their workforce's views face the risk of good employees leaving them.
On the contrary, peers are more likely to take a new idea or belief in a positive way. As a whopping 60.38% of the surveyed employees agreed that their colleagues regard their opinions at jobs, including 36.26% of people strongly agreeing to it. Also, 31.05% of the surveyed workers also reported inconsiderate colleagues, but only 11.86% of them strongly feel so. Meanwhile, just 8.57% of the participants choose to remain neutral about this.
Significant Number of Employees Face Various Types of Bullying at Workplace
Unfortunately, bullying can happen in any company - being subjective by nature, employees may feel mistreated for plenty of reasons. Yet, the exposure of this kind of negative behavior may have disastrous consequences on the physical and mental welfare of workers. Specifically when a whopping 67.19% of the employees say they are bullied in some way.
Two out of every three surveyed participants feel bullied at their workplaces.
Men feel just as bullied as women at work. While 78.91% of the surveyed females responded positive, even 61.35% of the males reported similar experiences.
To dig deeper, we asked participants, those who felt bullied, to indicate some of the common types of bullying at the workplace or to mention their own experiences. Here are the stats:
A majority of 60.16% employees were made feel undermined at the workplace, whether it be by bullying bosses, peers, or subordinates.
Another major reason, 50.39% of the surveyed feel that they are discriminately allotted more work by their superiors, or even made impractical deadlines to meet.
About 38.67% of the participants reported that they are seldom criticized invalidly or made fun of publicly which makes them feel humiliated at the workplace.
While 33.59% of the bullied workers feel that their adequacy and commitment to the company is always placed under scrutiny by their managers.
Surprisingly, as many as 30.47% of the participants reported cases of verbal abuse at their workplace.
Also, 26.17% of the people, who felt bullied, said that they were intimidated to do certain parts of their job, even if they didn't want to.
About 23.83% of the surveyed said that they were isolated at their work, making them feel a lesser part of the team.
A considerable chunk of 16.80% participants feels the intrusion of privacy in their work by several members of their company.
Majority of People Chose to Remain Silent While Dealing with Bullies at Work
Bullying can be subtle and mostly verbal, which may not be visible to others. Albeit, standing up to it incurs significant losses to workers in terms of mental welfare, time, as well as positions at their workplace. Keeping that in mind, it's innate for an employee to remain silent even.
A majority of 19.92% employees that were bullied remained silent about the occurrences.
Although, many people have indicated courses of action to deal with bullies at the workplace:
About 17.58% of the employees, that reported being bullied, said that they talked to their colleagues about the incident. It's very natural, people share things with others who they consider close.
Another 16.02% of the participants retorted to a confrontation about the whole incident with the concerned person.
While, 13.67% of surveyed stated that they got help from others in their office, or even outside their workplace.
Some 12.89% of the workers reported the incidents to seniors - direct managers in case of harassment from colleagues or higher position-holders in cases of bullied managers.
Also, 10.16% of the employees even reported the incidents to their HR departments, in cases of escalated incidents.
While 9.77% of the employees had to leave their jobs due to constant harassment issues, that seemed unsolvable by any method.
Top Reasons That Make Good Employees Quit Their Jobs
The participants were asked to choose carefully, any 5 of the given reasons that may prompt them to quit their current jobs. Top ten reasons emerged from the stats are as below in the figure:
A majority of employees (60.37%) mentioned that they are ready to quit their job for better opportunities at a preferred company, position, or location.
Similarly, 47.24% of the participants prefer work that they enjoy or are interested in, lack of which may prompt them to quit their jobs.
Salary does matter after all, as 42.78% of the workers might shift jobs if they feel they are getting low wages out of their work.
About 39.37% of the surveyed said they prefer to change their job in the absence of adequate work-life balance.
Not much behind, 39.11% of the chunk stated that lack of respect, recognition, or rewards at the office may prompt them to quit.
Another 38.58% of the people mentioned they could quit jobs pertaining to personal/family issues.
Also, 34.12% of the employees stated they may quit jobs if they have to move to another city or country.
Some 29.13% of the participants would leave their current job to pursue their passions.
Another 28.87% of workers said they would quit jobs due to lack of skill development at their workplace.
Also, 27.82% of the employees would leave the job if they don't get along with their bosses.
Different Generations Have Different Reasons to Quit Their Jobs
Generation Z employees list their top 5 reasons for quitting jobs as better opportunities (66.67%), personal issues (50.00%), low salary (48.61%), didn't enjoy work (43.06%), and moving to another city or country (43.06%).
Millennial workers list their top 5 reasons that they might change jobs as better opportunities (58.31%), didn't enjoy work (47.80%), low salary (40.34%), lack of work-life balance (38.64%), and personal issues (35.93%).
For Generation X, the reasons that prompt them to look for another job include better opportunities (60.12%), low salary (56.32%), didn't enjoy work (45.66%), lack of work-life balance (42.93%), and lack of intellectual challenge (37.33%).
The eldest in the group, baby boomers' list of reasons include didn't enjoy work (74.06%), moving to another city or state (71.55%), better opportunities (53.40%), low salary (50.26%), and personal issues (49.85%).
Conclusion
Building efficient teams, retaining high-performers and keeping clear communications between employees is the dynamics of an HR manager's job. While aligning every individual's efforts for the vision, mission, and values of the company.
GoodFirms hopes, you'll find the above employee engagement statistics helpful to polish your HR policies, whether it be creating a valuable work environment or offering attractive employee benefits to them.
In today's digital workplace, technology has made possible to bind a stack of disparate people working towards a common goal. Especially with business intelligence and machine learning, the topography of the workplace has now begun turning. In the wake of this, GoodFirms recommends leveraging some of the best human resource (HR) software, which would not only streamline operations for your recruitments but also keep track of your employee engagement and assessment.
Research Partners for Employee Engagement Survey