Do People Trust Home Delivery Services?
Never has the world seen such a steep rise in the demand for home delivery services the way it has now. The primary reason is - people's circumstantial preference to stay indoors. Now they are habituated to this convenient option. The fast, reliable, end-to-end delivery experience has emerged as one of the differentiating factors for customers while selecting one online platform or local shop over the other.
And so, both - e-commerce retailers and brick-and-mortar stores - are investing more and more efforts in making their home delivery process as convenient and holistic as possible. Earlier, the delivery process's factors, such as speed, free shipping, and shipment tracking, were considered perks. Now, they have become consumers' very obvious expectations.
That is why, in the fast-paced world of online retail, e-commerce companies must pay attention to the delivery process to enhance customer experience and loyalty and bolster purchases.
GoodFirms surveyed 500 consumers worldwide to learn about their preferences regarding home delivery services. The results provide insights about the products, delivery factors, frequency of purchase, and outlets that consumers are inclined to. While this detailed research discusses how businesses can align their delivery services with the customers' inclination and make the most out of it.
The Detailed Findings
The pandemic has altered the consumers' buying habits, which consequently has brought the retail industry to its knees turning its online and offline operation ratios upside down. Despite the initial struggles post lockdown, retailers have found the answer.
CJ Xia, VP of Marketing & Sales at Boster Biological Technology, explains what that solution is.
He says, "There is a tremendous shift from the usual prototypical purchase. Buying more through digital means, now customers are happy to wait for their products rather than having direct touchpoints. Because of this, an efficient delivery system is essential. Going the extra mile when you are delivering your product to the customer strengthens the buyer-seller relationship."
And offering a comprehensive buy-to-deliver digital experience is undoubtedly the necessity of the moment, with 50.4% of the consumers using home delivery services at least once a week and 14.8% of people ordering products almost daily.
Read the present comprehensive article with a detailed analysis of the consumers' preferences towards various home delivery service factors, their favored products, and outlets with relevant stats. It provides insights to the retailers and e-commerce businesses about how to move forward to meet all the consumer's expectations, earn their trust, provide last-mile delivery safely and in-time, and win the bigger piece of the pie.
Contactless Delivery is the New Standard
Before evaluating the home delivery factors affecting the consumers' choices, it is essential to know how the retail industry has bounced back by keeping its consumers' health concerns at the fore. The answer lies in understanding contactless delivery, which has emerged as the retailers' and buyers' paramount consideration post-pandemic.
Also known as 'No Contact Delivery' and 'Zero Contact Delivery,' it reduces interpersonal contact between employees, delivery partners, and customers. In traditional delivery services, which was prominent before Covid-19, the customer browses through the website or app, places their order, makes an online payment, and awaits delivery.
With this safer approach, direct delivery to customers in their hands is avoided, and at least 6 feet distance is maintained. A delivery executive keeps the order at a customer's doorstep without ringing a bell or knocking, takes a picture of the same, sends it to the customer to notify them, or updates the status that the delivery is done and they can pick it up. It also includes regular sanitization of the offices/buildings, equipment, warehouses, packaged goods, employees, and delivery partners.
Whereas, Retailers having both an online and physical storefront can offer an additional frictionless shipping option that appears at online checkout - BOPIS - Buy Online Pickup In-Store. Shoppers can add items to their cart online and select the shipping option to pick up their order in-store during the checkout process. They get a notification when the order is ready for pick up and can collect at any time the store is open.
However, contactless delivery is easier said than done. Implementation of this model could prove costly in the initial stages, and the involved parties need to adhere to the standards that consumers expect. People expect speedier delivery, free shipping, shipment tracking, and sanitized and hygienic products.
Pulling off Efficient and Speedy Delivery is a Must
The customer service landscape is no longer limited to providing quality services only. With numerous retail brands now offering guaranteed next-day delivery on online purchases, it's no wonder that 66.4% of consumers expect their home delivery to be super-fast.
Consequently, retailers also choose delivery speed as the primary competitive factor.
As the Managing Director of Better Gift Flowers, Abhay Dhabarde's primary aim is to deliver gifts on time and as early as possible to the recipient. They primarily deal with flowers and cake, which are perishable in nature.
Abhay says, "We've multiple local vendors in the city to deliver gifts. Soon after receiving an order, we assign it to the vendor nearest to the delivery location, and that's how we manage to deliver in just 2 hours, sometimes even faster. So, having a local vendor network who can perform the delivery on their own would be very helpful in improving shipping and delivery experience."
Effective Inventory Control
E-commerce businesses need to control their inventory in a manner, which allows them to have high demand stock items on hand to meet their customers' orders without over-stocking them.
Stacy Caprio from AcneScar.org also suggests, "Make sure you order enough inventory to have it all in-house and ready to go so it can be sent out right when a customer places an order. Some e-commerce companies use dropshipping, or other inefficient shipping methods that mean the product never has a chance to get to a customer quickly."
As Stacy mentioned, many sellers use dropshipping to eliminate the burden of stocking merchandise and avoid the tricky business of balancing the inventory.
Delivering products within a reasonable and promised time frame can be a little difficult for smaller enterprises with limited resources. However, with efficient delivery logistics and a robust order fulfillment strategy in place, processing customer purchases can be streamlined, ensuring products arrive on time.
Shipment Tracking Helps Improve Customer Trust
The cutting-edge technology of shipment tracking allows consumers to monitor updates on the order status, estimated delivery dates, and time. This enhances the customer experience, letting purchasers know what to expect for their delivery and get notified of any delays.
Indeed, 62.2% of shoppers participating in the survey acknowledge that tracking shipment is imperative to acquire their trust. Among them are a whopping 80.0% of Gen Z.
Arnold Chapman, Founder of ELDFocus.com, specifies the ways e-companies can use shipment tracking to improve customer service, "The points you should be focusing on are:
Have Parcel Auditing
Senders also have the right to receive refunds if needed. With parcel auditing, you will have control and clarity over your shipments. Through the software, you can concentrate on selling your products while the monitoring is done automatically.
Provide Answers
Companies have to be aware that consumers are accustomed to enjoying visibility in their purchases. Not providing the service that your customers expect of you will result in you losing to competition. If your clients ask you questions, remember to give them direct and honest answers. Offer to provide them with the locations of their parcels or the exact time and date of arrival.
Send Notifications
Successful e-commerce such as Amazon allows their consumers to acquire delivery notifications. Companies should inform their customers once the order is shipped, out for delivery, and has already been delivered. If the parcel encounters any issues or problems while it's on its way, the e-commerce platform should notify the buyer."
Sanitized and Hygienic Products are the Need of the Hour
It goes without saying that complying with hygiene and safety norms is of utmost importance to combat the virus's spread. 58.0% of consumers are inclined towards receiving sanitized and hygienic products at their doorsteps.
E-commerce companies also recognize the need and are doing their best to adhere to hygiene standards.
Arnold Chapman says, "There are a few ways to deliver sanitized and hygienic products:
1. Sterilize Items
If you manage your inventory, make sure to disinfect every item you're selling. Wipe the boxes or packages with antiseptics and any surfaces you're placing them on. People handling the parcels should also consistently wash their hands when handling your products.
2. Train Your Employees
Make sure to provide your workforce with instructions on how to handle parcels properly. Teach them always to wear gloves, masks, wipe down deliveries, and follow other protocols. Everything starts with you and within your company.
3. Practice Social Distancing
Leave parcels at the door of your customers. However, make sure that your employees leave special instructions. Your delivery personnel should also knock on the door before departing to ensure that the package is retrieved."
Large Online Marketplaces Facilitates Easy Delivery For Customers
Giant e-commerce platforms put the retailers directly in the path of dedicated and engaged shoppers and eliminate the need to set up a website, warehousing infrastructure, and the need to make large investments in marketing. Our research reveals that 80.6% of people trust delivery from such an extensive online marketplace. Additionally, 85.3% of Gen X do so.
Sales on such platforms, like Amazon, eBay, Alibaba, and others, accounted for 57% of global web sales in 2019.
Getting launched as a seller on Amazon is quite simple. It offers 3 ways to retailers to deliver orders to their customers.
Fulfillment by Amazon (FBA) - Amazon stores, packs, and delivers the products.
Here, retailers have to send their products to an Amazon Fulfillment Centre(FC). Then, with FBA, they gain access to class storage and fulfillment facilities, fast and free delivery options, trusted customer service, return management, and have their products Prime eligible, too.
Easy Ship - Retailers store and pack their products; Amazon manages the logistics, customer service, and provides end to end delivery.
Fulfillment By Merchant (FBM)/Self-Ship - Sellers store, pack, and deliver their products. It enables local shops on Amazon.
Sellers or shop owners with the ability to deliver orders the same day/next day to customers in their local area (through their own delivery associates or a courier partner) can unlock Prime benefits for select pin codes with Local Shops.
There are various alternatives to Amazon available for the merchants that are opting for self-shipping. Ostap Bosak, Manager at Marquis Garden, informs about some of the best options. They have been shipping hundreds of orders per week in the 2020 season as the company finds itself more and more in the online selling, rather than brick and mortar type of retail.
Ostap says, "Regardless of where the company sells (marketplaces like Amazon, eBay, Google Shopping, etc. our own website), or who the company uses for shipping services, at the end of the day, the package will be delivered by one of the major courier services (UPS, FedEx, DHL, etc.) or Postal service.
That being said, those who have a significant volume of shipments can enjoy far better pieces than those offered "off the street." And there is a way for small businesses to use it, even if that shipping volume is nowhere as large as UPS would like it to be.
Third-party shipping aggregators take shipping orders from thousands of small businesses and, therefore, can offer large volumes to the carrier to negotiate the best price.
From our personal experience, the best ones are NetParcel and Freightcom.
Everything is pretty straight forward with the small parcel business, but as we are selling some items, which can take up to 4-5 shipping pallets, we are often shipping LTL(less-than-truckload / less-than-load) to customer's retail locations.
No one can offer a better price and ease for a small residential LTLs than Freightcom or Milestime.
Since we have started working through the third parties instead of directly working with carriers, we have effectively halved our average shipping cost. Moreover, we have open new possibilities which were simply not accessible for us - like selling and shipping a large Estate Fountain in Rural Oregon."
On-Demand Delivery Services Are On Rise
Overnight, the recommendations to stay home and the realization of the vulnerability to disease altered the way individuals approached their purchases. Particularly the ones food-related! And the changes in customers' behavior imposed a series of unique challenges to the food retail and service system. Restaurants and grocery stores were closed except for delivery or takeout options. Now when the lockdowns are eased with occasional exceptions, people are still apprehensive about returning to sit‐down restaurants.
The solution came in the form of 'on-demand delivery services,' which already existed for various industries like food, healthcare, transportation & logistics, home services, etc. People still trust the delivery of consumer electronics, clothing and accessories, books and stationery, home appliances & furnishing, and other products. But the industry for which the third-party delivery services have become an essential revenue stream is mainly the food sector. 63.0% of the surveyed consumers now order groceries, and 65.4% order food and drinks online.
Customers from all demographics shifting to online delivery made the food industry adopt new operational models that may become permanent. These days, restaurants have various meal-delivery apps, such as DoorDash, Grubhub, Uber Eats, etc., to partner with.
Similarly, many supermarkets, local grocery stores, specialty retailers, and even pharmacies partner with apps like Walmart, Instacart, Shipt, and Amazon Fresh.
63.6% of the customers still like getting products delivered from local shops near their homes, while 61.0% order from local shops within the city.
Taking an example of the Uber platform, it connects restaurateurs with independent drivers, bike and scooter riders, and walkers who deliver food to their customers. Because of the network of couriers using the Uber platform, restaurants do not need to have their delivery staff. But if they want to, they can use their own staff. Uber Eats assess delivery coverage and the restaurant's location to define the delivery radius, which naturally varies from city to city.
Providing grocery delivery services since 2012 and considered a pioneer in its segment, Instacart doesn't own a massive warehouse. It allows consumers to shop online from their registered local grocery store. Instacart then sends a 'personal shopper' to buy and deliver their listed items, generally within five hours on the same day or the scheduled date.
In-person Shopping is Still the Biggest Preference
Despite the surge in mobile applications, e-commerce capabilities, and other technology advancements, physical stores are not the ones to become obsolete. Consumers still value tactile experiences - the ability to see, touch, and feel the products before purchasing.
When asked about their preferred alternative to home delivery, 80.3% of the surveyed shoppers and 83.3% of the millennials acknowledge it to be in-person shopping.
"The way stores enable in-person shopping right now looks rather different to how it did a year ago, and in its turn, a year from now, things will have switched to a degree once again!" says Polly Kay, Senior Marketing Manager at English Blinds.
She adds, "While early on in the pandemic, managing in-store shoppers and enabling shoppers to keep a distance from other people meant a high level of in-person supervision, this has already begun to evolve.
Traffic light systems above entry doors have been integrated by many retailers, letting shoppers know right away if they can come in or if the store is full and they need to wait.
Far higher integration of help buttons enables speaking to an assistant in the store, maintaining a physical distance.
RFID codes are used to enable shoppers to look up detailed product information themselves rather than needing an associate to help.
Self-scan shopping, where shoppers are issued with barcode guns to scan and pack their own items on the go and then check out via an unmanned till, have proven to be efficient and popular during the pandemic.
Contactless card payments at checkout are, of course, the norm now."
Polly has observed that there has not been a huge uptick in the number of self-checkout terminals available in most stores to remove the human element of checking out entirely.
She speculates, "This is perhaps in recognition of the fact that self-checkouts are in many cases more trouble than they're worth and require a lot of assistant intervention to correct errors, which can only be handled by means of physical proximity to the shopper to a higher degree than when working a regular checkout!"
Curbside Pickup Rises As an Alternative
Curbside pickup service allows customers to pick up their purchases from a convenient location instead of visiting the retail outlet, without stepping out of their cars. Currently, about 35.0% of the people like to use the curbside pickup as an alternative to home delivery services.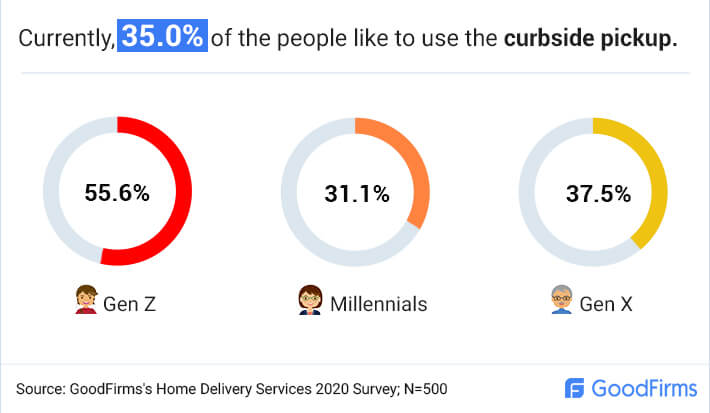 But, the fulfillment process is in its developing stage. And thus, some inherent flaws.
Alex Membrillo, CEO of Cardinal Digital Marketing Agency, believes retailers need to cut down on the customer's wait time upon arrival and ensure their processes are smooth; otherwise consumers will shop elsewhere.
Sharing his recent experience with curbside pickup, Alex says, "Last week I had an order at Best Buy scheduled for curbside pickup and the experience was a mess. After following their online pickup process and staying in my car (as directed), 30 minutes passed without anyone coming outside with my order. Upon going inside, I was directed to a long line of "curbside" pickup people all waiting for orders that were never brought to their car.
The issue with this is the approach was flawed. Corporate processes were not feasible for the store to manage to get orders out to people waiting for pickup. This was likely a result of being understaffed."
Kelsey Chan, Growth Marketer and Co-founder of CocoSign, provides an answer to how to improve curbside pickup's execution continuously. She says, "If you are one offering this service or looking to implement it, here are a few steps you can take to make this experience less daunting -
Have an option to display your store inventory.
Mention reasonable expectations for when a curbside order of a particular product will be available for pickup.
Once the order is ready in-store, the staff must be notified to pick all the items and set them aside for pickup.
Once an order is picked, the customer should be notified when they can expect the order to reach their convenient location and pick up their order.
Have a customer check-in system, which indicates that the customer is in the parking area and will pick up the order."
Conclusion
With a significant portion of the world's population opting to select and purchase products and services through digital means, there has been a consistent and noticeable rise in the need for an efficient home delivery system. Every consumer's requirements, expectations are different, will be different! But there are certain factors that delivery services need to look after to be successful.
The main features that resonate with customers are - the speed of delivery, shipment tracking, free shipping, sanitized, and hygienic products. In addition to these, e-commerce companies have to be genuine about their offerings, provide after-sales services, and make delivery part of the personalized customer engagement. It wouldn't be wrong to say that contactless delivery has become the new norm in an era dictated by social distancing.
Consumers prefer purchasing on a large online marketplace because of the ease of all-in-one shopping and a wide variety of products. Accordingly, online retailers also prefer selling on the renowned huge marketplace to leverage the global reach and reduce marketing costs. Several SMBs now prefer working with third-party shipping aggregators to reduce the average delivery cost. Nowadays, various local shops/restaurants partner with delivery apps like Uber Eats, Instacart to sell their products and services. Still, many people prefer in-person shopping over curbside pickup as an alternative to home delivery.
About Goodfirms's Home Delivery Services Survey
GoodFirms surveyed 500 consumers worldwide.
The respondents of the survey belong to diverse socio-economic geographies such as the United States (23.2%), Canada (20.0%), United Kingdom (14.0%), India (13.8%), Australia (13.0%), and Others (16.0%).
The participants were primarily males (71.4%), along with females (27.8%). While, the age distribution among all the research contributors was - 9.0% of Generation Z (18-24), 70.8% of Millenials (25-39), and 19.0% of Gen X (40-59).
The respondents were asked questions about the delivery factors that matter to them the most, products they order more, the outlets/shops they prefer, the shopping frequency, and favored alternatives to online delivery.
We humbly thank our Research Partners, who helped us garner survey participants and contributed significant insights for this research.
Leave comment
Your email address will not be published. Required fields are marked *
Author Info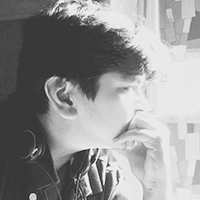 Nathan Sebastian
Content Writer at GoodFirms